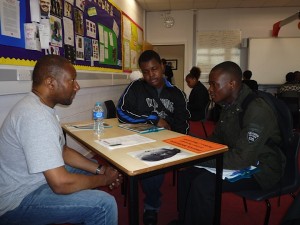 Urban Synergy role models were invited to join the team at Sedgehill School this week for their sixth form Careers Carousel.
The event began at 10am and the role models settled into their tables bearing their names and biographies and prepared to share their life experience with the sixth formers. Details of the role models' educational and training route towards their chosen career path were reproduced as a hand out on the day. Teachers, students and prefects were around to assist whilst students trickled in carrying clip boards with information on how to get to their desired role model for that much needed advice on a chosen career path or perhaps a surprise discussion on an alternative path they had not even considered…. .
By 11am the atmosphere was buzzing and the Sedgehill and Urban Synergy role models had their work cut out as students moved from table to table! Beck Salmon Assistant Headteacher of KS5 who organised the event said, "This is often the first time for a lot of the students that they get to meet a professional in either an area they are aspiring to work in or even something they had never considered or knew about".
Leila Thomas, founder of Urban Synergy said
It was great to be invited back to Sedgehill where we have already held a Role Model Seminar to inspire y10-y11 students. sharing experiences and helping young people to believe is important to us and we look forward to supporting the school with further Role Modelling and work experience opportunities.
Thanking everyone for their support Beck said "We all hoped that you enjoyed the day as much as as our students did – feedback from them has been really appreciative of the time and care that you gave and showed them yesterday. Sedgehill Students loved their day. See you all again next year (please?)