Urban Synergy's mentoring programme focuses on 12-16 year olds who are paired with trained volunteer mentors. Our mentees are referred from schools, Pupil Referral Units, Youth Inclusion Support Panels and community organisations. Urban Synergy's mentoring programme was developed in conjunction with mentor training firm, The Life Skills Training Consultancy and focuses on the Government's 'Every child matters' framework.
'Every child matters' framework guides the composition of our mentoring programme with the following mentee-focused aims:
Be healthy
Stay safe
Enjoy & achieve
Make a positive contribution
Achieve economic well-being
The main objectives of our 1-2-1 mentoring programme are to increase mentees' self-confidence, improve their academic performance, raise their aspirations and for some to gain experience of the working world.
Our Mentors
Urban Synergy mentors are from all walks of life, professions and industries and desire to contribute positively to a young person's development by being a role model. They will help their mentee to achieve goals but it's not all work – our mentors also engage their mentees in fun, safe activities.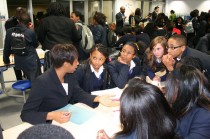 Running for a period of one year, mentors meet their mentees typically once a fortnight and follow a structured goal-oriented programme. Our mentors focus on providing mentees with a head start by sharing positive life experiences, contacts, knowledge and support and encourage mentees to use the tools and opportunities effectively.
All prospective mentors complete enhanced CRB checks and mentor training before they are matched with their mentee. Mentors/mentees are matched by gender and location but personalities and interests are also considered to ensure a good match. A mentee's progress is tracked and evaluated throughout the programme so that the young person has a report of what they have achieved and a roadmap of near goals to pursue after they 'graduate' from the programme.
How can you help?
Urban Synergy's Mentoring programme has ambitious expansion plans for 2010 / 2011. We are always looking for mentor candidates and partner organisations who can help us continue to deliver the high quality mentoring and work experience programmes to young people. To learn more about what it takes to be a mentor, visit our mentor section.
If you are a prospective partner organisation and would like to find out how you can make a contribution to Urban Synergy's work please use the Contact Us