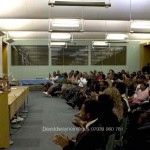 On Tuesday 2nd June, five Urban Synergy mentees went to the "No More Excuses" By Sotonye Diri Book Launch at House of Commons.
Chad (one of our mentees) spoke about the importance of positive Role Models being visible to young people in our community.
Amongst the crowd was Alexander Amosu (R 'n' B ring tones), Aml Ameen (Actor), Dawn Butler (MP). Chad's speech was well received – So much so, Aml Ameen asked Chad to sign his book!