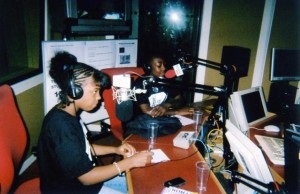 Recently two Urban Synergy mentees visited BBC London Radio for the day to see how a radio station works. Jaynesha had this to say about the experience:
During the summer holidays, I visited London BBC Radio in Central London with Urban Synergy. Eddie Nestor described it as an 'odd' day. He explained that the topic they would be focusing on today was the Baby P story because the identities of the perpetrators were now known to the public. Usually they would have at least three issues but the Baby P story was 'hot news' so they wanted to look into it in more detail.
We arrived and were greeted by two very polite security officers. Eddie met us with a friendly greeting and then led us into his studio. On our route, he showed us the news room and introduced us to some of the people he works with for example the Studio Manager and Senior Broadcast Journalist. Eddie's show was about to start so whilst he talked with his team we sat, listened and watched how everything worked. His drive time was now 'live'!
We were taken to another room to watch through a large glass window and met Dan, Floor Manager. Dan was great (and his job!!). He told us about the equipment he used and what this and that button meant. He told us that before all the DJ's go on air everything like questions to ask listeners and introducing the news is pre- planned and listed on a computer screen for him before or during the show for example, Eddie has cues that he reads out so he says, "..and now we are going to the news". Then, the news report comes on.
After the show, Eddie took us on a tour and showed us different rooms behind the scenes – editing, archives and introduced us to a few reporters.
DID YOU KNOW…?
About 600,000 people tune into London BBC Radio once a week!
That they have news, travel and adverts during drive time EVERY 15 MINUTES EVERY HOUR!!
I really enjoyed my trip at BBC studios. I am very honoured to have been given this opportunity.
THANK YOU EDDIE NESTOR & BBC RADIO LONDON FOR MAKING THIS POSSIBLE!
Jaynesha Rowe