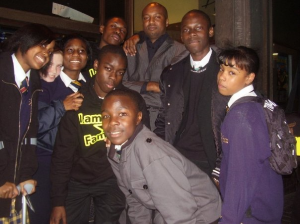 Urban Synergy mentee Maxine was recently part of a group winning a poetry competition on the "Importance of Success". Here she writes about the experience of attending the Urban Music Awards as part of the prize winning group:
Myself and eight other people (including my teacher) from my school went to the Urban Music Awards to present our group poems about success. Before the Urban Music Awards, I practiced my parts of the poem so that I would be prepared and know my lines off by heart. This took some time but I got there in the end!
On our way to the UMA's, I was not as nervous as I thought I would be. I think that was because I knew that I wasn't going to be the only one on stage to present the poem. Knowing that my group would be with me gave me more confidence.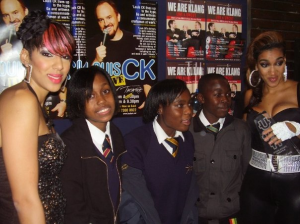 When we finally arrived at the UMA's, I saw a variety of celebrities such as, Philip Idowu, Egypt, Malika, Sway and many more. Some of them performed on stage. While I was watching some of the celebrities perform I was really excited as to see them in real life is a completely different experience to watching them on the TV.
When our group name (Urban poets) was called out that's when my nerves started to kick in. We all went on stage and performed our group poem. On stage I did not look too much at the audience because I thought I would get stage fright. But when it was my turn to say my part of the poem I spoke clearly, gave a little eye contact and made sure that I did my best! I was relieved when it was time to get off stage and go back to our seats because I don't think that I could take the eyes off the crowd looking at me. Overall, the whole experience of the UMA'S was excellent and I am very grateful that I had the chance to go. Mentoring has helped me for this experience because it gave me confidence and in the future I know that it will help me. It also helped me because of my mentor Cynthia and that she gave me much support and good advice and I am thankful for that.
By: Maxine Harrison