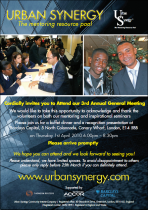 Urban Synergy will be holding it's 3rd Annual General Meeting on Thursday 1st April 2010 6pm – 8.30pm.
We would like to take this opportunity to acknowledge and thank the volunteers on both our mentoring and inspirational seminars.
Please join us for a buffet dinner and a recognition presentation at Barclays Capital, 5 North Colonnade, Canary Wharf, London E14 5BB
Please understand we have limited spaces. To avoid disappointment to others please enter your details in this form by 25th March only if you can definitely attend.
We hope you can attend and we look forward to seeing you.