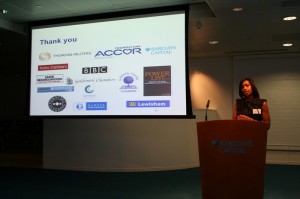 On Thursday 1st April 2010, Urban Synergy held it's 3rd Annual General Meeting at Barclays Capital, Canary Wharf London. Core members of the team were joined by over 100 supporters including mentors, parents, teachers and mentees.
Core members Leila, Dianne and Donovan gave presentations on the Mission, Activities and Finances of Urban Synergy. We also heard from Patricia John-Baptiste of Bonus Pastor Catholic College who talked about the positive impact our Think Further Academic Seminar had on students and she later read a letter from a parent thanking us for the seminar. But the highlight for many was hearing from mentee Paris Thomas-Robinson who talked about how Urban Synergy has helped her and how she is now happily studying for her GCSE's. Awards were given to a number of mentors and mentees in recognition of hard work and commitment to Urban Synergy and this was  followed by a musical performance by mentee Aminata.
Our thanks go to Colin Corrodus of Barclays Capital for allowing us to use their facilities, Patrick Clarke for hosting, Antony Blondell for his photography and of course everyone who came along on the Easter weekend.
Message from the Chair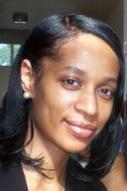 When Urban Synergy – the Mentor Resource Pool launched in 2007, initially as a one-off project, none of us could know that it would capture the imagination of so many professionals, corporate supporters, parents, schools and young people. Almost three years later and with the help of a loyal band of professionals who volunteer their time on our behalf, Urban Synergy has helped well over 1000 young people to realise they have the potential to beat stereotypes and to overcome the challenges they face. It's a wonderful achievement that I, our founder, Leila Thomas and the Urban Synergy Steering Committee are particularly proud of.
It's rewarding to see the results of the work we do with young people bear fruit and there is no doubt in my mind that this organisation has filled a great need in our community. But there is more that we want to do and we are working towards near-term and longer term strategic goals to expand Urban Synergy so that more young people benefit from our unique programmes.
I'm reminded of the African saying: it takes a village to raise a child and there are so many people who have helped take Urban Synergy from strength to strength. On behalf of the Urban Synergy Steering Committee, I would like to thank all of our supporters including mentors, our mentees, our school and corporate partners, parents and concerned members of the community for ongoing support. Together, we can make a real difference to a young person's life and inspire them to success and I hope you will remain engaged with the process.
Dianne Johnson
Chair, Urban Synergy
The Year in Review
2008/2009 was a busy year for Urban Synergy with major activities undertaken that benefited young people as follows:
Trained 75 voluntary mentors from a variety of professional backgrounds
Provided 1-1 mentoring for 75 young people to help reach their full potential, giving advice, encouragement, support, motivation and empowerment to improve their confidence and self esteem
Worked in partnership with schools, youth projects, youth inclusion support panel and families to assist both referred and self referred young people in need of additional support and attention to inspire them to move forward and succeed in their lives
Worked in partnership with a number of schools in the South London area to deliver role model seminar and university academic seminars, to reach 1000 people of which 600 were 11-18 year old, to show young people opportunities available to them
Delivered inspirational and motivational events for young people to extend knowledge, understanding of possible career options and networking professional people, young people have benefited from attending our Role model and Academic seminars
Mentees have benefited from attending a variety of programmes focused on building life skills, undertaken a number of training exercises designed to help them gain greater self-confidence and team building skills, awareness, support and communication via services within their community. They have learnt the importance of balancing team work with self-reliance, helping them in numerous life situations, allowing them to practice their problem solving skills
Our young people have attended Goal setting workshop and behaviour workshop to give them direction so that they can become mature, confident, independent, life-equipped, learn new skills and be successful individuals and positive contributor to their community
5 volunteer mentors have achieved accredited qualification in youth work
Our young people have attended a number of work placements at various companies. The programme pair young people with industry role models to help lift their attainment, self esteem and set goals to prepare them for success
AGM Tabled Business: Organisational Formation Change
Urban Synergy started as a self-funded initiative with an intention to create a revenue generating arm to fund the community work being done. To enable Urban Synergy to grow at a rate that will enable it to sustain itself, Urban Synergy proposes to convert from a Community Interest Company (CIC) to a Charity.
A Charity is a not-for-profit organisation that is undertaking particular activities that the law has decided are in the public interest, and thus worthy of support from the public purse.
The primary reasons for seeking charitable status are financial. To summarise the advantages and restrictions of charitable status:
Benefits of charitable status:-
Charities can access sources of funding which are unavailable to non-charities – in particular, charities can seek funds from a wider range of grant-giving trusts, and are likely to have more success in raising money from the private sector and the general public.
Charities generally pay less tax than non-charities – particularly Corporation Tax, Capital Gains Tax, Stamp Duty Land Tax on property transfers – and can reclaim the tax from some donations given to them. They are not generally exempt from VAT. Businesses get tax benefits from charitable donations.
Charities are eligible for statutory relief on Business Rates for property occupied (minimum 80% reduction)
Charity formation is the most accepted and favoured formation and is recognised more by the public generally.