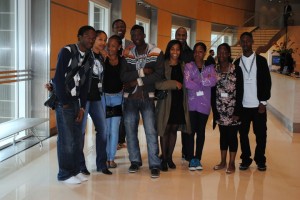 As any person intent on success knows, goal setting is crucial. And six Urban Synergy mentees recently found out why when they learned the most effective ways of visualising success and achieving their goals at 'A New Road To Success' Goal Setting workshop led by Sonia Palmer on Monday 16th August.
The day long workshop, held at Thomson Reuters, Docklands enabled the mentees who ranged in age from 14 to 17 years to carefully assess all of their individual goals, to prioritise them and to work with Sonia on the theory and practical measures necessary to achieving them.
So what did the mentees say they would take away from the workshop to implement on a permanent basis?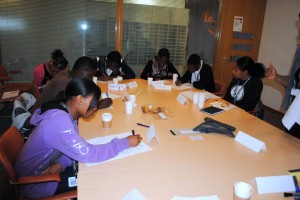 Louisa, 15 said: "I will definitely be using my time more efficiently in order to reach my goals," while Maxine, 15 replied that in order for her to focus on her goals, she realises that she needs to ignore negative comments by others. Rymel, 16 found the STEM exercise particularly useful and will practice using it to help him reach his goals. What's STEM?
Rymel explained that 'S' is for evaluating the things you fill your immediate space with that might positively or negatively affect your goals, 'T' is to evaluate how you spend your time, 'E' relates to the energy needed to reach your goals and 'M' is for reviewing whether you're using your money wisely.
Louisa said: "I really enjoyed this workshop…. and I would definitely recommend that others do it. Our trainer was excellent and I hope we'll get the opportunity to participate in a follow-up session if there are plans to do one…"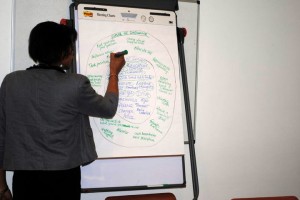 The session's facilitator, Sonia Palmer has been providing her own brand of unique workshops for Urban Synergy over the past two years and with fantastic feedback given by the mentees after each workshop, there is certainly a buzz about the next workshops that Sonia has in store.
Dianne Johnson, Urban Synergy Programme Manager says: "Sonia has again given the mentees who participated in this workshop a lot to take away from the session. Dozens of our young people have benefitted from her workshops over the past two years. As a small organisation, we really appreciate the contribution that Sonia and others like her make to Urban Synergy and it's great to know that because of her efforts, young people we help are being inspired to reach for their goals."