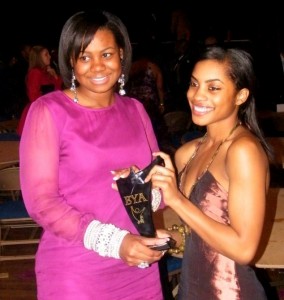 On Saturday 20th November, Urban Synergy mentee Paris Thomas Robinson, 16 won a prestigious award at the Black Youth Achievement Awards 2010.
With categories such as Education, Business & Enterprise, Technology, Arts, Sports, Community and Choices, the Black Youth Achievement Awards are held in recognition of young people who have accomplished extraordinary things , some of whom against the odds. Defying those who thought she was heading down a path of destructive behaviour, Paris won a 'Choices' award which recognises a person who has made a conscious decision to make positive changes to their life.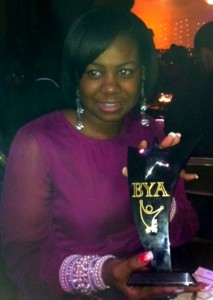 Paris's story is one of superb achievement after having experienced a tumultuous couple of years during her crucial teen years. But her remarkable turnaround over the past 18 months is due to a positive shift in attitude, several personal goals that she has set for herself and a burning desire to do well and achieve something positive in life. Paris has been mentored for the past year by Urban Synergy volunteer mentor, Buki Bakare, who has witnessed Paris's dramatic turnaround.
The BYA dinner and award ceremony was held at the Camden Centre, Euston Road and Paris's award was presented by Jai Prakash of the Link Fostering Agency. The Choices category this year was presented to two winners in this category.
With a beaming smile after collecting her award, Paris spoke about her recipe for success. She says: "You deserve the very best achievement of which you're capable. The challenges and setbacks and disappointments are there to make you determined enough to get it."
"Being around negative people caused me to become negative myself. I lacked drive and often gave up instantly. Also my lack of motivation meant that opportunities would knock on my door and I would feel that I wasn't capable of achieving – so I ignored them."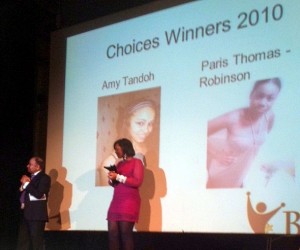 So how did she overcome her challenges? "Firstly, it was with the encouragement of Urban Synergy. Urban Synergy helped me to realise my potential and built up my confidence to an extent I never thought I could reach. I also made a real effort to remain positive about everything at all times, which was often a struggle but it helped me immensely."
Dianne Johnson, Urban Synergy's Programme Director says of Paris's win: "Knowing how hard Paris has worked and really turned her outlook on life around, and seeing her collect such a prestigious award made me extremely proud. Paris is a credit to herself, to her family and friends, to her mentor, Buki and on top of that, she is an example to other young people who might be heading down the road to self-destruct. I'm glad that Urban Synergy could share a small part in her achievement tonight."
So, on behalf of all the team at Urban Synergy, many congratulations to Paris! Go Paris, Go!