Urban Synergy recently trained nine ex-mentees, at their first-ever Young Ambassador training session, which was held at The Lewisham Leadership and Development College in south London.
The session was aimed at preparing each mentee for their role as an Urban Synergy Young Ambassador. Each was given an insight into what happens when they step out of their comfort zone and speak publicly to a large audience. They had to consider what makes a good presentation to an audience. Other elements were: how to prepare for your presentation, capturing/holding the interest of your audience in the first two minutes, and what it means to actively listen.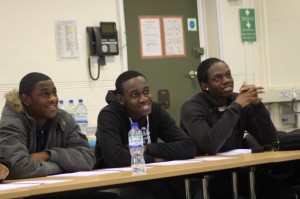 Paul Lawrence 'The Life Skills Training Consultancy', led the session using a combination of techniques including an impromptu 3 minute presentation starter activity where each mentee stood in front of the camera to deliver. Many of the mentees impressed Paul, who described a couple as 'outstanding' after finding 'no fault in their presentation.. from start to finish'.
The mentees spoke of what they had learned as 'something that could be applied to everyday life… it has made me more aware of when I am talking to people' and the main strength of the event was 'viewing ourselves via the video recording at the beginning, and at the end of the session'.
Paul concludes, "Working with young people is always a delight, but, the special relationship that LSTC has with Urban Synergy makes it extra special. I was particularly pleased to train this group. They are not only eager and talented but, for the first time, on this course the majority of young people were young men. Well done US!!"
Congratulations to: Abraham Alase, Chad Orororo, Gavin Kamara, Kofi Siaw, Kwadko Boakye, Louisa John-Phillip, Phillippe Bromfield, Rochelle McIntosh, TJ Jaiyeola for attending and successfully completing the training and and becoming Urban Synergy's 2011 Young Ambasadors.
Expect to see our Young Ambassadors at Urban Synergy events this year, they will also be helping to raise the awareness of Urban Synergy services within the community. Look out for our Young Ambassadors as they aim to: INSPIRE you to ASPIRE to greater heights.