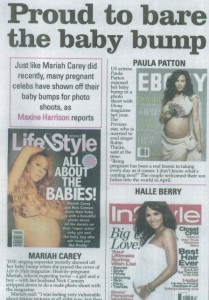 Maxine, a St Matthew Academy student and recent Urban Synergy mentee used her half-term break to gain valuable work experience at The Voice newspaper.
Reproduced with permission from the St Matthew Academy website:
Budding journalist, year 10's Maxine Harrison, took full advantage of her work experience at The Voice to get her name in print. Maxine's writing ability shone out to the editors of The Voice that they asked her to write a number of showbusiness pieces which were published in the April 14 edition of the newspaper and online.
Read her article on Jaden Smith here.
Read Maxine's article about pregnant celebrities here.
Martin Nirsimloo of St Matthew Academy had this to say:
[quote]Maxine did amazingly well and has come on leaps and bounds since being under a mentor.[/quote]
Our mentor Cynthia who kindly helped to arrange the work experience said:
[quote]Firstly, I'd like to say how proud I am of Maxine! When I first met her, she was a shy, reserved yet studious young lady who didn't realise her full potential. But throughout our mentorship she developed her self-confidence and esteem and also improved in her studies/grades. As a budding writer, she enjoyed her experience at the Voice newspaper as she was able to gain an insight into an industry that she wishes to pursue and confidently show off her talent![/quote]