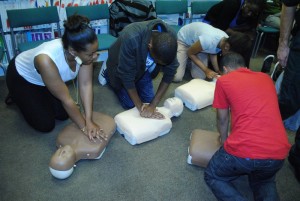 The Summer Events programme continued this week with First Aid Training given by Norman Abbott from the London Ambulance Service. Mentees went through the Emergency Life Support Course and learnt a number of key skills that could save lives.
The course was very interactive and it was enlightening to see that the Mentees knew a lot more than they thought.
The course covered:
Safe approach to a collapsed/injured person
Recovery position
Recognition of absence of normal breathing
Cardio Pulmonary Resuscitation (CPR)
Signs & Symptoms of a Heart Attack
First aid for a Heart Attack
Severe Bleeding
First aid for Severe Bleeding
Burns & Scalds
First aid for burns & Scalds
I look forward to meeting with them again next year.
Norman Abbott, Community Resusitation Officer, London Ambulance Service NHS Trust
Mentees gave the following feedback:
Enjoyed the most about the activity?
Chad (18) – doing the role plays of what to do in an emergency situation
Caleb (14) – the video (on resuscitation)
Paris (16) – the hands on learning and activities
Action you will take away with you.
Kaream (16) – remember how to do First Aid
Gregory – helping someone with basic first aid in an emergency situation
Simeon (13) – the recovery position
Reanne (15) – holding my head down when I have a nose bleed
Recommend activity?
Gavin (18) – A key skill to learn
Chad – Productive and educational
Aisha (19) – I learnt a lot…would be beneficial for you (friend) to know to save someone's life
Gregory – basic and packed with info
[quote]The first aid session was not only enjoyable but also informative as well. Everyone there came away with something new or had refreshed their skills and it was good to see young people want to get involved.
Vanessa
[/quote]