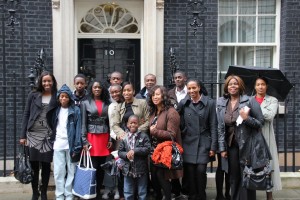 Yesterday, Tuesday 25th October, members of the Urban Synergy Steering Group and Young Ambassadors went on a tour of 10 Downing Street. Role Model, Dawn Goring MBE, took us on our first guided tour of the Prime Minister's office. In the Entrance Hall, we stood where many world leaders had and still do, climbed the grand staircase and viewed portraits of Prime Ministers past to present and lounged on chairs in the Pillared Room where famous leaders sit for official talks. Whilst meandering through the many Georgian decorated rooms doing our best to remain attentive to the historical accounts of the architecture, its use and more given by Dawn, David Cameron hurriedly walks by taking us all by surprise as we'd been told he wasn't supposed to be there!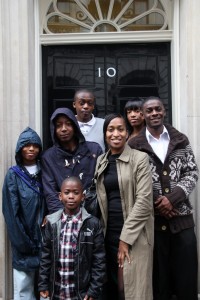 Though we were unable to capture the moment on camera we all caught a glimpse of him and heard him muffle something to the effect of 'Hello' as he disappeared down the corridor with his shirt half-hanging out, according to one observer. Clearly, a very busy man! By the time the tour finished the heavens had opened and rain was pouring down as if determined to stop US from having that one thing we really went there for – a picture outside the most famous black door in the world. Fortunately the rain turned to a light drizzle so we snatched the opportunity and recorded the event in the pictures below. To say we all had a great time is an understatement especially our youngest member of the group, Stefan, who excitedly expressed he is doing a school project about history. We hope his teachers will be impressed by all the new things he'll be able to include in his work!
Thank you Dawn for personally organising the day and providing US the chance to view behind the door of 10 Downing Street. Thank you also to members of the Press Office for contributing to the tour and explaining to US about who does what and how efficiently you all work as a team. We look forward to continuing to work with you in the future!