Welcome to our Christmas 2011 newsletter, an update on the exciting events that we have held over the last few months and more importantly the progress and achievements from the young people involved with Urban Synergy.
In the first full year since we achieved charity status, we have continued to attract Mentors and Role Models keen to work with some of the young people in our local community. Urban Synergy's 1-2-1 mentoring has gone from strength to strength and we would like to personally thank all who have been involved from mentors, to role models, speakers, volunteers who have helped make events and training sessions successful and fun. We'd also like to personally congratulate those young people who have engaged with us on some fantastic achievements this year – the feedback we have had just goes to show that many of you are really achieving your potential and you have exciting futures ahead helped by the choices you are now making.
We are grateful to all who have become part of Urban Synergy in any way this year. Please continue to support us and we look forward to many more successes in the New Year.
Merry Christmas!
Urban Synergy Team
Summer Life Skill Enrichment activities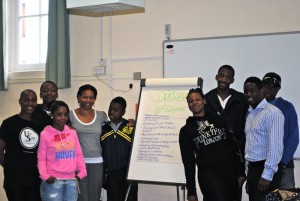 A programme of events was held for young people throughout the summer of 2011 which included training, advice sessions and informative days out. These ranged from: managing difficult situations; to first aid training; to intergenerational volunteering; to touring the Houses of Parliament; to Thorpe Park to getting advice on careers and NLP goal setting personal development.
A number of young people attended and learnt a lot from these different sessions. It was really pleasing to see them take the opportunity throughout the school holidays to get involved in activities that will help their personal development. Thanks to Natasha Reid for co-ordinating the summer events programme and to the volunteers who helped to make these successful.
Click here for posts from the Summer Events
Work Experience Programme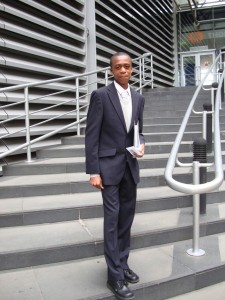 The summer months also saw a number of young people taking up work experience positions through our network. Some spent time at Thomson Reuters, one of Urban Synergy's corporate supporters. Based at the company's Canary Wharf office they were lucky enough to meet the Head of Legal, Daragh Fagan as well as other professionals.
During their time in the Thomson Reuters Law internship, the young people created CV's and were involved in putting together legal presentations and attending talks from employees on legal career journey, life skills and career advice. The programme also took the young people to visit City law firm, Mayer Brown where they learned more about the careers of solicitors.
Some of our Mentees also visited to a barristers' chambers and the Old Bailey for a week and feedback from those who attended was very positive. Many were encouraged to consider a career in law and took with them a greater understanding of the job opportunities and the importance of school and college work in achieving these dreams.
Autumn Role Model Seminars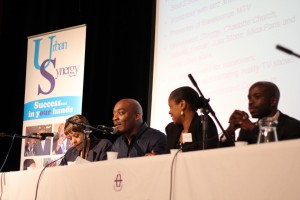 Once again, Urban Synergy hosted a series of 'Top Tips To The Top' Role Model Seminars expertly organised by Sue Watson. These evening events taking place at schools give around 200 young people at a time the opportunity to hear from individuals who have interesting life stories to tell alongside their career achievements. These seminars took place in October and November 2011 and had great turnout from pupils. The feedback from attendees was particularly useful in giving insight into the speakers came across and it's clear – they truly are inspirational Role Models.
The first seminar was held at Haberdashers Aske's School, followed by two more at Christ the King and Trinity Schools in South East London. As well as role models talking through their own life experiences, attendees also had the opportunity for 'speed mentoring' – small group sessions where they were able to ask the mentors questions and gain further advice and guidance.
Here is a snapshot of the feedback from our young attendees:
[quote]I will make sure that I do not give up on anything that I want to do and I will make sure I chase my dream.
I will be taking my studies more seriously after attending this seminar.
I enjoyed speaking with the role models and asking questions.[/quote]
Urban Synergy will hold more Role Model Seminars in 2012
Thomson Reuters – Community Champion Award Winner
This year has seen Urban Synergy recognised as a Community Champion in an awards ceremony run by Thomson Reuters, a leading international source of business information. Tom Glocer, CEO, Thomson Reuters announced that employee Leila Thomas the founder of Urban Synergy had won first prize globally. He highlighted in particular how Leila was an outstanding example of using passion and expertise to drive what matters to you.
The prize will allow Urban Synergy to further inspire and empower young people in London by helping to provide additional resource to support the 1-2-1 mentoring, work experience, training, role model seminars and events.
Thomson Reuters' CEO added "In her role at Thomson Reuters, Leila has inspired many colleagues and like-minded professionals to get involved as mentors to young people." Urban Synergy has also been mentioned in the House of Commons and praised for the work that it has done since being launched in 2007.
Business in the Community Race For Opportunity Award 2011
Urban Synergy contribution towards Thomson Reuters RFO best employee network award
[quote]a charity supporting 11-18 year old BAME students through 1-2-1 mentoring and professional BAME role model seminars run at schools. The charity reaches 1000 students a year across SE London and continues to grow.[/quote]
 Promoting Urban Synergy and Corporate Community Impact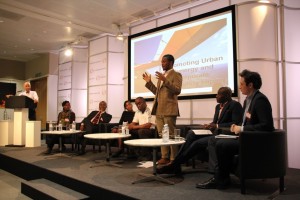 Thomson Reuters, Urban Synergy Community focused joint event with Deloitte targeted at how organisations can work with the local community to provide better opportunities and futures for disadvantaged young people and create an inclusive talent pipeline. Event objective more collaborative work.
Moderator:
Ken Olisa – Chairman, Restoration Partners & Corporate Director, Thomson Reuters
Panelist:
Leila Thomas – Founder, Urban Synergy
Courtney Griffiths QC – Chair of Trustees, Urban Synergy
Alex Wheatley MBE – Award winning novelist, Brixton Rock
Barbara Soetan – Chair, Elevation Networks
Tim Campbell – Bright Ideas and Winner of the Apprentice 2005
Jacob Sakil – Young Mayor of Lewisham
Apps For Good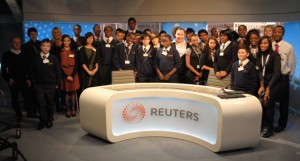 Leila is volunteering to show how Technology can be fun and enterprising as part of an Apps For Good CDI Programme.
She is working with Bob Schukai Global Head of Mobile Thomson Reuters and the International Embassador for the London Tech City innitiative to bring mobile apps into schools. Leila has taken the lead role to support 40 young people from St Matthews Academy on this programme who will participate in a Dragons Den competition in 2012. The winners app will be on sold on the Mobile App Android market.
Urban Synergy on tour – Thriller Live visit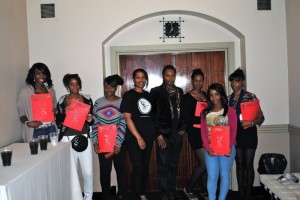 An Urban Synergy team member, US mentor and six mentees were the guests of Adrian Grant, Role Model and Producer of Thriller Live earlier this year at the Lyric Theatre in Shaftesbury Avenue.
The US mentees met the cast of Thriller Live on stage before the show and had the opportunity to talk to Adrian about his role, asking him for guidance and useful tips for aspiring actors/dancers. Adrian advised getting involved in as many productions as possible to get experience, selecting a good agent and seeing as many different shows and plays.
One of the cast also gave some valuable advice on overcoming nerves. He said that sometimes things can go wrong on the show, or you may attend numerous auditions without success. The key is to brush yourself down and keep pushing forward, remain positive as you will succeed in the end if you believe in yourself. The event was fantastic, informative and fun and Urban Synergy would like to say a big thank you to Adrian Grant, the theatre staff and cast of Thriller Live for a wonderful evening.
Visit to No 10 Downing Street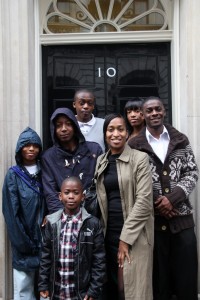 On Tuesday 25th October Urban Synergy Steering Group members and Young Ambassadors were invited to tour 10 Downing Street. Role model, Dawn Goring MBE organised the visit where attendees saw the entrance hall and grand staircase, with portraits of former PMs. They sat in the Pillared Rooms where heads of state meet for formal discussion. They even caught sight of David Cameron who wasn't supposed to be around – this was the high point of the trip for all.
Not even the rain could dampen the high spirits of the group as it threatened an early end to the trip with a possibility of no photo beside that famous black door! But not quite so, the photo below shows all who attended for a fantastic trip and thanks go to Dawn Goring for arranging this and to her colleagues in the press office for giving up their time to talk about their roles.
What people are saying about Urban Synergy
Urban Synergy has been recognised for its successes in many ways this year. From being praised in the House of Commons, an award from Lewisham Council and also notes of thanks from teachers – no words are more important than the feedback that we get from the young people we all work with and of course, their parents. So here's an indication of what Urban Synergy is doing for young people in our community from feedback given by mentees and parents:
[quote]My son realises there are responsible black men who are professionals and have good positions in their jobs. My son feels he would like to be this type of person also.
My son's mentor has given him lots of advice on handling himself in school and how to behave and in his reflective moments it is clear that this has had an impact. (He) has been a great support to me as well as my son. I feel very appreciative of the time and commitment (he) has put into my son, particularly in juggling his own family life to accommodate him.
Parent of Mentee[/quote] [quote]
Outstanding examples of how you can use your passion and expertise to drive what matters to you. In her role at Thomson Reuters, Leila has inspired many colleagues and like-minded professionals to get involved as mentors to young people. Leila makes us all proud"
Tom Glocer CEO Thomson Reuters[/quote] [quote]I feel inspired to do better at school, achieve better grades and find out if I can do more work experience.
Young person on Thomson Reuters work experience[/quote] [quote]I think that it has been a fantastic seminar. Well-timed and focused toward meeting young needs and mentoring. Well done!
Parent of pupil at Role Model Seminar[/quote] [quote]Without Urban Synergy, I don't think I would have had this experience. It has taught me to work on my timing and grab every opportunity that comes my way.
Young person on Thomson Reuters work experience[/quote] [quote]Every school should have an opportunity like this because the speeches they gave us can actually change people's lives and can make their dream come true.
Pupil who attended Role Model Seminar[/quote]
New mentors join Urban Synergy
As a number of first time Mentors started took up their new roles with young people this year, so we took on another group of keen volunteer mentors. 1-2-1 mentoring is at the heart of Urban Synergy and so far since launching, over 1,000 young people have been part of the programme for many and varied reasons.
The process of engaging with new mentors begins with a discussion with somebody at Urban Synergy, then an invitation to attend a Q&A session to hear more from members of the Steering Group. Formal checks are taken to safeguard the young people and their parents and then potential mentors are invited to attend two full days of training which enables them to learn and understand the process of mentoring. It also allows group discussion and opinion on how to deal with a whole variety of scenarios that may arise. This is also a great time for new mentors to get to know others who are also embarking upon the same journey. These mentors will very soon be working with some young people, so we welcome them to Urban Synergy and wish them all the best. Hopefully some of their activities and success stories will feature in our next newsletter!
To find out more about becoming a mentor or if you know a young person who might benefit from 1-2-1 mentoring, please contact us here
Help us spread the good news!
We have pages on Facebook, Twitter, Google Plus and subscriptions via email. So please click on the Like or +1 button in our posts and help share the work we do with your friends, it only takes a second to click!