On November 2nd 2012 a group of Urban Synergy ambassadors, mentees and parents had the rare opportunity to be given a tour around one of the most prestigious buildings in the world, 10 Downing Street. Maxine, who was also part of this group, has written a short feature about this event.
10 Downing Street Visit 2012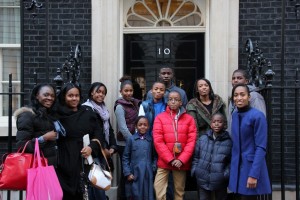 When entering the Prime Minister's house, we were welcomed by the two Downing Street cats, Larry, who was snuggled up on the windowsill and Freya, who was casually roaming the hallways. After our warm welcome, we had a brief introduction from our host Dawn and shortly after, begun the tour.
Whilst looking around the house, we came across a number of large rooms that were carefully and thoughtfully designed. The White Drawing room was particularly impressive, as its ceiling was beautifully decorated with the national emblems of Wales, England, Scotland and Northern Ireland. This room is used by the Prime Minister to greet foreign dignitaries and has been favoured by all of the previous Prime Ministers' wives.
We also walked up the grand staircase, where we saw portraits of all the previous Prime Ministers chronologically spread out upon the walls. We also spotted that the stairs were specifically designed to have nothing beneath them holding them up; this left the group amazed yet confused! Another room we looked at was the Cabinet Room. Here we saw the boat shaped table where the Prime Minister and the Cabinet meet each week. There were 2 candlesticks, a gift from Ronald Reagan (the first foreign head of state to visit the room) and a gold sword given by the Saudi Royal family during a state visit.
After our interesting and informative tour, we took some pictures of ourselves, standing outside the 10 Downing Street door. We would like to give special thanks to Dawn for providing Urban Synergy ambassadors with this unique experience, we are all very grateful.