Mentee spotlight, Kofi
We're often asked about the young people who have been mentored by Urban Synergy and what they are doing now. So we asked Ben, an aspiring journalist and Urban Synergy mentee to talk to Kofi:
Before you were involved with Urban Synergy, what were your aspirations?
Kofi Siaw: I always had aspirations of entering the legal profession. The big challenge for me was gaining access to knowledge so I was more informed about the decisions I was going to make. Urban Synergy opened a door that could not really be opened between me and the legal industry. I got involved in Urban Synergy during Year 10, I was part of a group of boys called "London Challenge" and Urban Synergy helped us to organise the first "Top Tips to the Top" Role Model Seminar. I was one of the organisers and this was a very enlightening experience. It gave me the opportunity to meet and talk to a lot of black professionals. More importantly I was able to get to access to lawyers and obtain valuable advice.
[quote]Urban Synergy opened a door that could not really be opened between me and the legal industry[/quote]
What are you doing now?
I am now 21 years old and I'm currently working as a paralegal at a litigation law firm in Blackfriars. Outside of work I am actively involved with youth and business engagement. I am a member of the RfO (Race for Opportunity) Youth Panel and I am also an Urban Synergy Young Ambassador.
How has Urban Synergy mentoring benefited you?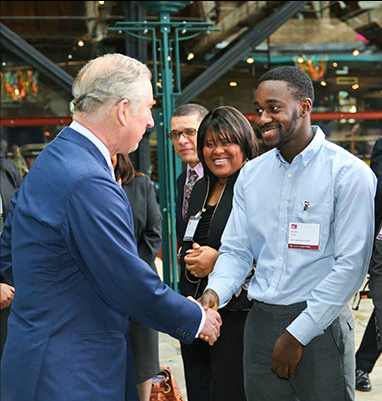 Urban Synergy has benefited me in many ways. My first legal work experience was through Urban Synergy and it taught me a lot about the profession and where I might want to take my career. I have made a lot of contacts as well, which has been good for my professional development. I was introduced to Race for Opportunity (RfO) by Urban Synergy and I'm now part of the Youth Advisory Panel. Through this appointment I've managed to build up my confidence at public speaking engagements and by hosting Academic Seminars for Urban Synergy.
Do you think mentoring would also develop another young person?
I would definitely recommend Urban Synergy. They provide the opportunity to meet other young people with high aspirations who can provide encouragement, as well as having the opportunity to gain valuable work experience. Urban Synergy has provided a support system throughout the various stages of my education, to the extent that I was even getting help from one of the mentors – who is a barrister – on my university coursework.
Kofi- Final Words: Urban Synergy has provided me with constant guidance on my career. I have always found the help when I needed it, be it trying to get work experience or help during my degree. Urban Synergy always supported me and they still do.
Written by Ben Mukisa, one of Urban Synergy's reporters.