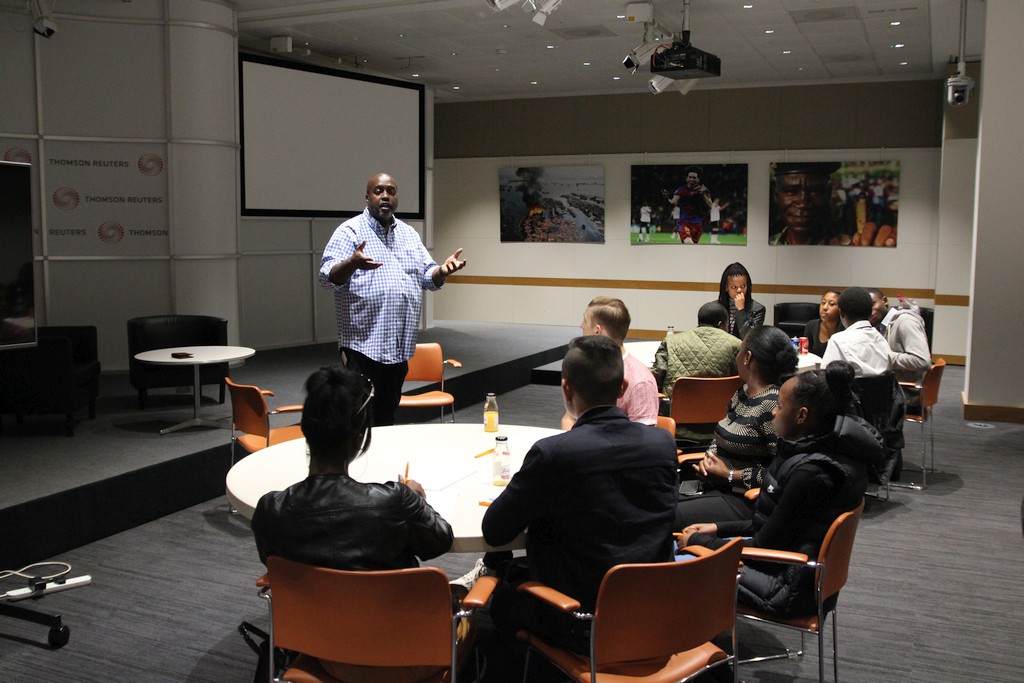 On 31st July, Urban Synergy mentees and young people from the Career Jumpstart programme attended a Ready for Work presentation and workshop at Thomson Reuters. The workshop was presented by Paul Lawrence of Life Skills Training Consultancy and provided valuable insights on interview technique and CV writing.
As an ice breaker, the young people watched a role playing interview with Paul and mentor Courteney, and were told to spot as many mistakes as possible. All the young people were able to spot the many (deliberate) mistakes and were given top tips for interviews:
Greet the interviewer, have a firm handshake, wait to be seated.
Positive body language, posture and making good eye contact with the interviewer.
Have open discussion with the interviewer, demonstrate you can communicate, talk about interests outside work.
Learn to speak in a business manner, especially if the job is customer facing.
Don't lie about your qualifications, it is very easy for employers to verify
Ask about training, what your typical day might be.
Be ambitious, anticipate the "where do you see yourself in 5 years time" question.
Interview preparation
Know the content of your CV, check spelling and grammar, and take 2 copies to the interview
Plan your journey to the interview, try to arrive an hour before and ensure you know where to go.
Read the job description, and ensure you are suitable for the position.
Do research on the company
Plan what to wear, ensure there are no missing buttons or stains on clothing. It's always best to be smart than badly dressed.
Turn off mobile phone before interview
Get a good night's sleep, and have breakfast
Alison Bradshaw of Lewisham Council then talked to everyone about what makes a good CV and handed out examples and templates for the young people to study.
Feedback
Jose, aged 14yrs: 'I learned that an interview is about the little things, such as punctuality and body language. I have also learned how to write out my C.V. I will update my C.V. and I shall make sure that I remember most of the tips. Personally I can't think of how Urban Synergy can make this workshop better.'
Khuwayne, aged 14yrs old: 'I learned that you need to be prepared when going into a job interview, for example: research the company/organisation where you are going to get a job.'
Ramayne, aged 14yrs old: 'I personally enjoyed Paul Lawrence's speech, advice and activities.'
Diamen, aged 14yrs: 'I learned that my decisions could possibly interfere with my getting a job.'
Meliese, aged 14yrs: 'I learned that punctuality is the best thing and to make sure you are prepared the night before.'
Harry, aged 15yrs old: 'I will always be prepared for work, have an updated C.V., research the business and industry and wear appropriate clothing. I enjoyed being able to develop the skills that I will need to get a job.'