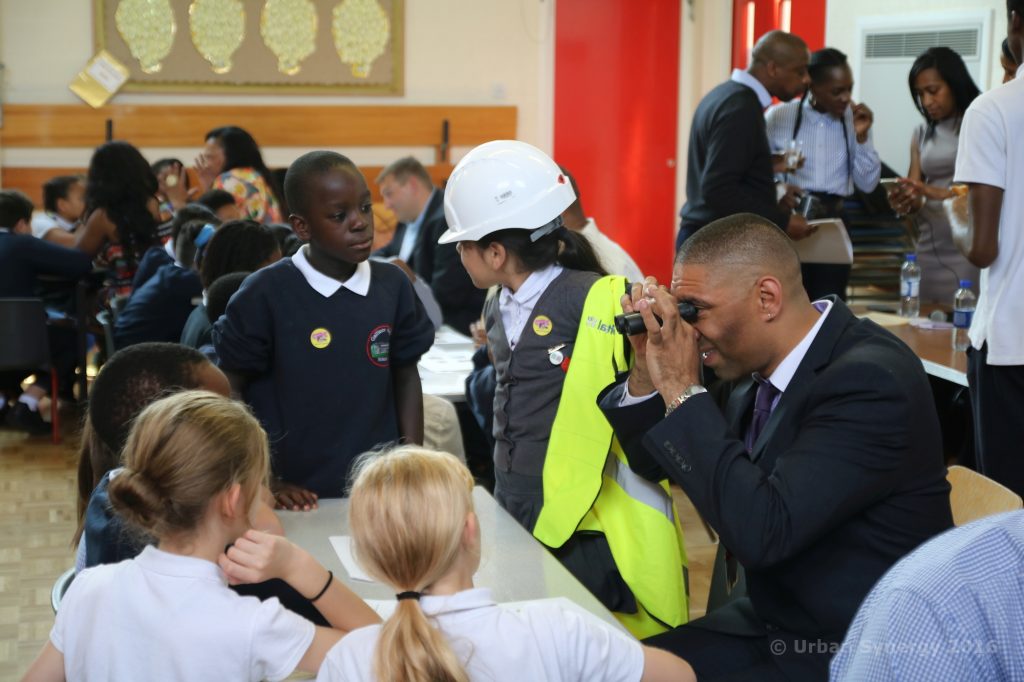 Urban Synergy held a 'Top Tips to the Top' Role Model Seminar at Gallions Mount Primary School in Plumstead, London on Tuesday 21 June 2016.
The seminar was a first for Gallions Mount, who now join a growing list of primary schools who have received the aspirational seminars such as Eliot Bank and Gordonbrock schools in the borough of Lewisham.
The Urban Synergy Role Model Seminars provide students with accessible role models and an opportunity to learn about a particular career including the necessary skills, education, positives, negatives whilst raising students' awareness of the variety of careers available to them. Up to 100 Students are exposed to a panel of four in the first session followed by an open Q&A and 'speed mentoring' where up 25 additional role models from all walks of life and professions including legal, banking, media, sport, fashion, medical, publishing and engineering share career tips and advice.
The seminar was opened by Deputy Head Siobhan Stanczyk and facilitated by Dianne Johnson, Programme Manager, Urban Synergy.
Our Panel
Toks Aruoture, Children's Nursery Furniture Designer, The Baby Cot Shop
Peter Granger, Data Centre Planning Manager, Thomson Reuters
Mary Martin, Designer, Mary Martin London
Nicola Tenyue, CEO/Writer, Chantelle Enterprise
Following the panel session, students spoke face to face with up to 15 Role Models who shared information about their jobs at the speed mentoring tables. Students also took part in First Aid demonstrations with Norman Abbott, Community Resuscitation Officer at The London Ambulance Service NHS Trust, handled an exclusive fashion item by designer Mary Martin designed to mark the Queens 90th birthday celebrations and tried on the 'hard hat' of building Surveyor, Greg Wade.
Top Tips
Each panel member talked about their career journeys, the highlights and the challenges they faced along the way and shared their three personal 'top tips' to the students:
Toks Aruoture
"You never really stop learning"
"Take responsibility for your actions"
"Having options"
"Hard work ….. makes a whole lot of difference"
Peter Granger
"No one is going to come up and give it to you, you have to work for it"
"You have to be confident about what you are doing and what you are saying, go out and talk to people, be socially confident"
Mary Martin
"You need to have a really good personality"
"Self criticism is the best criticism"
Nicola Tenyue
"Believe in yourself. Remind yourself how good you are at things"
"You've got to do it, don't wait for it to come to you. You have to go and get it. Get on, do!"
"Overcome your fears"
Gallions Mount school pupil feedback
"Thank you Urban Synergy for coming to our school, and we have been inspired by you"
"Never give up, believe in yourself, and work hard" Omar, 10
"I learned that you should keep on studying, even if you want to be a footballer" Preet, 9
"If you want to achieve something, you need to work for it." Trevor, 10
[quote cite="Siobhan Stanczyk, Deputy Head"]The seminar has been absolutely fantastic. It has reinforced that our school values are important all the way through life".[/quote]