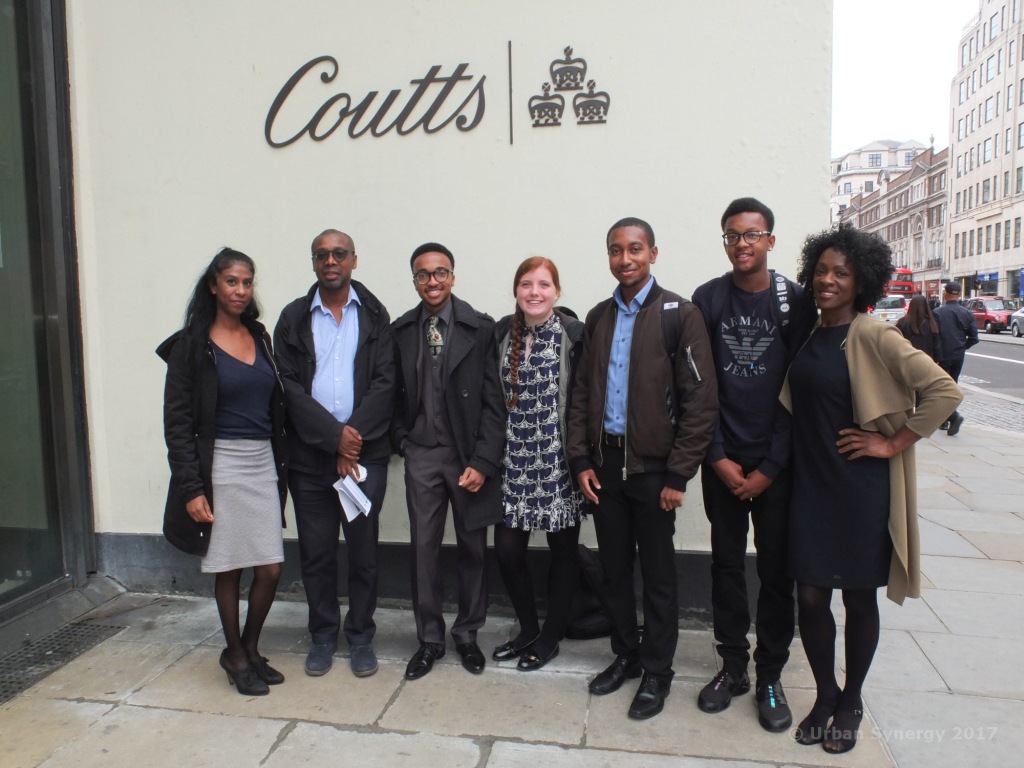 Urban Synergy mentees enjoyed a visit to private bank Coutts & Co on Monday 24 July.
The private bank, which holds accounts for Queen Elizabeth 11, was originally a goldsmith-bankers shop, formed in 1692 by a young Scots goldsmith-banker, John Campbell of Lundie, Scotland and originally called the Three Crowns. It is the seventh oldest bank in the world. Situated in London's Charing Cross, it has been owned by the Royal Bank of Scotland Group (RBS) since 2000, when RBS purchased its parent, NatWest. Until the 20th century Coutts was a clearing bank to the nobility and landed gentry, but today it is a wealth manager to a wider range of clients, including entrepreneurs, entertainers, sportsmen, professionals and executives. The British Royal Family is a noted client. There are however stringent requirements to being accepted as a client, not just based on average and total financial assets. Prospective clients need at least £1,000,000 in investable assets, not including real estate.
Urban Synergy were welcomed by Jason Whiteside, Wealth Manager, Nicola King, Director and Wealth Manager and an archivist who conducted a short but interesting tour of the bank which was regenerated in 2013. It boasts the UK's first atrium building, said to be one of the finest examples of creative conservation and is a focal point to the building. The statue of Thomas Coutts, brother in law to John Campbell's daughter, who took over the bank in 1775 is a prominent feature in the atrium.
Following the tour mentees were given an introduction to the history of Coutts followed by a light lunch. A highlight was the staff career talks by Jason, Wealth Manager and Franklin who shared insights into their career journeys which revealed non-traditional routes into banking!
Jason attended school outside of London. He wanted to work in London but wasn't entirely sure when he left school what he wanted to do. He left school and didn't go on to university. He joined the army. He trained hard and was sent to work in Afghanistan and Somalia. He wanted to work in investment banking. The way he achieved this was by studying the relevant qualifications during the down time of the fighting. On his return to London he recalls networking, and even standing around outside the building for a convenient time and asking if he could shadow them at work. He done three internships and before he knew it he had clocked up six week's worth of work experience. His hard work paid off and he is now a Junior wealth Manager in Private banking. Jason said the the students: 'My advice would be to work hard and have a plan'.
Private Banker Franklin studied Media at University. After investing some time in the industry he saw that his career wasn't moving. He knew he wanted to be successful and that he wanted to help others. He spoke frequently of having the enthusiasm, the energy and always wanted to be the best he could be and said that he sets his own personal monthly targets higher than the required target. During his career he regularly takes on new challenges by moving to a new position once he feels he has reached his full potential. Franklin explained that he didn't rely on anyone to inspire him as there were no specific role models around him. He believes that it is important to find the motivation and drive within, as people are flawed and can make mistakes as they are human so to avoid disappointment he doesn't rely on outside influences from individuals.
The final item was a personal finances presentation which gave the mentees tips on bank accounts and how to look after them, basic bank services, credit cards and borrowing.
In summary Nicola King said that the common messages of the day have been surrounding the following key skills:
1. Focus
2. Planning
3. Visualisation
4. Not being afraid to push past your comfort zone
The mentees gave their thoughts on the day.
What did you enjoy most about today?
Nicolas: I enjoyed the career path from the guy called Jason. He did not go the conventional route of education. He wanted to get into investment banking and what I liked was his ambition and his tenacity. He networked to get where he was.
Dante: I enjoyed the tour and the history of the building was really good.
Where there any particular mottos that stood out for you?
Nicholas: Franklin talked about goals. He had a goal to reach 10M and he set his bar to 20M then he did research and achieved 40M, which told me that you shouldn't let people set labels on you and tell you where your limits are. Set your own goals! Don't just stop when someone tells you.
Rae: What I learned from today was to believe in myself, and not to let anyone tell you that you can't achieve something. If you have confidence in yourself you can go anywhere you want to go. No one told these people speaking today that they couldn't achieve it. Jason was determined to get what he wanted out of life and when Franklin asked his managers about the target they told him 'no' but he proved them wrong. So just believe in yourself.
Urban Synergy would like to thank Nicola, Jason and their team for this memorable visit!