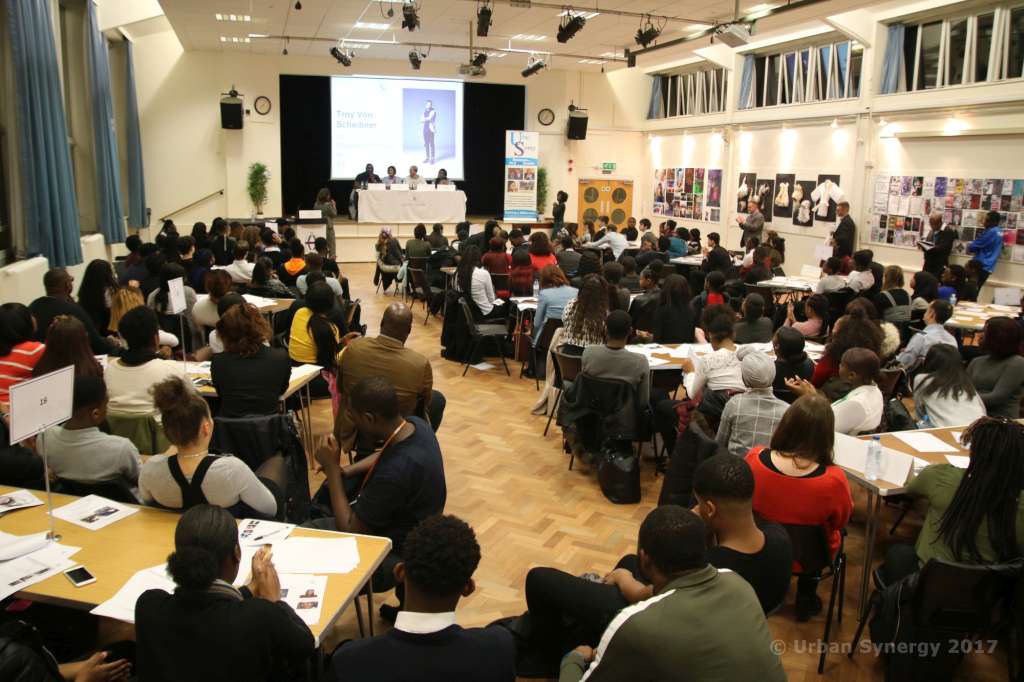 Listen...learn...be inspired….
Urban Synergy held another Role Model Seminar at Christ the King Sixth Form College on Tuesday 21st November 2017. The seminar was well attended by over 140 students from the Christ the King campuses. The seminar was hosted by Urban Synergy's Sue Watson and the purpose was to inspire young people by providing them with visible, tangible professional role models and career insights. The role models also share their top tips.
The panel of role models consisted of; Nonso Anozie, actor; Shevonne Bramley, recruiter from the RAF Regional Engagement Team; Troy Von Scheibner, Magician/Entertainer; Ernestina Agyei, Marketing Manager, Wealth UK, Barclays. Urban Synergy role models from various industries were also in attendance to take part in the speed mentoring session to be held later in the evening. Other Urban Synergy role models in attendance included a barrister, fashion stylist, commercial director at Thomson Reuters, head of business development at Lloyds Bank Commercial Banking Markets, VP Product Management at Barclays Bank, Security Architect at Capgemini and Computer Forensic Consultant.
Nonso Anozie, Actor has appeared in a number of films and dramas including Game of Thrones, Cass and Cinderella. Nonso spoke about being born in Camden, London and being raised by a single parent mother and said;
"Visualise what you want to do with your life...keep that image in your head, and visualise it every single day."
"What you have is your unique, individual gift and your vision for your life. Money management is important learn how to invest properly it isn't taught to you and you need financial IQ to manage your money. Go down the road that you want, don't follow the crowd, think for yourself. Also be around people who help you, not hinder you, positive not negative energy."
Shevonne Bramley, Recruiter,Regional Engagement Team, RAF spoke about initially not doing well at school but despite that she still aimed high when some of the other girls around her had low aspirations. Shevonne managed to work for her degree when she was married with two children which she added was difficult. She has also travelled around the world with her job. Shevonne added; "If you want to do something, go for it, don't think about what other people think."
"If you want it enough you will get there"
Troy von Scheibner, Magician/Entertainer spoke about his determination and the foundation of his success where he made himself as visible as possible by performing magic in restaurants and clubs. An opportunity presented itself when a person at the table one night suggested that he would be good on TV. He shot a pilot show in the USA, unfortunately the BBC did not want to show it but eventually Channel 4 became interested and commissioned the 6 part series. Troy continued to say that;
"Anything that you are passionate about, anything you want to do, put your all into it and something good will come out of it"
"Persevere with what you want to do, work hard and be patient, appreciate the journey and work hard at it"
Ernestina Agyei, Marketing Manager, Wealth UK, Barclays previously also worked at Coutts as an Investment Communications Associate she talked about her education and initially how badly she did at her A'levels which affected her confidence but despite that she persevered and went to university, completed a placement in Spain and also went on to complete her degree and managed to get a 2:1.Ernestina advised; "Never be afraid that you can't do it. If you set your mind to it you can do it."
"Even if you don't know something, do your research, use all the resources available or get a mentor someone else who can help".
Feedback from the Christ the King students who attended the seminar;
Mike, aged 17 - "I learned that having a vision will make all the difference and be true to yourself."
Mafany, aged 16yrs - "I learned that I should have self-confidence, I should never give up regardless of obstacles and I should visualise my future. In the future I will visualise my career and work hard to achieve it."
Esther, aged 16yrs - "I learned that failing is never a reason to stop trying."
Elienai, aged 17yrs - "I learned that everything requires determination, hard work and patience."
Dova, aged 16yrs - "I will challenge myself by stepping out of my comfort zone. I enjoyed speaking with people from different sectors which gave me a broad idea of everything."
Temi, aged 16yrs - "I learned don't let people discourage your vision."
Darnell, aged 17yrs - "I learned that success isn't a straight line, there will always be curves in the road but you must persevere and try and try again."