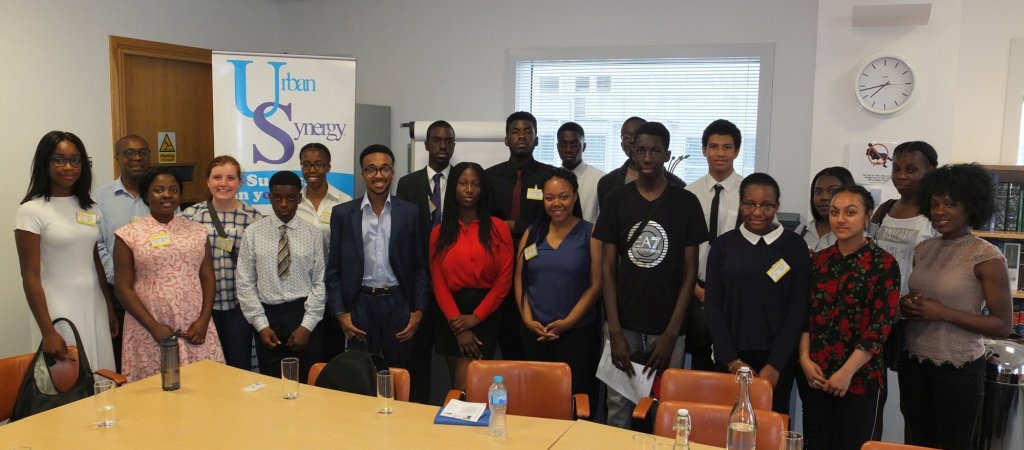 The Urban Synergy Career Jumpstart Work Experience Programme continued apace throughout 2017.
The programme, was again supported by the Young Mayor's Office of Lewisham and is now heading for its fourth year. It gives young people aged between 14-18 mainly from Lewisham schools and the surrounding areas an opportunity of practical, hands-on work experience which otherwise might not have been available to them.
Work experience gently introduces students to the world of work, giving them an idea of the skills they might need to thrive in the workplace. It will help students identify their own skills, strengths and weakness and perhaps highlight the areas they might want to work and even build contacts early on.
This year, Urban Synergy in partnership with the following organisations who have committed to providing placements over the past few years as well as some new ones were able to place 29 young people in work experience, many of their chosen career choice:
Thomson Reuters (Legal, IT and Product Management)
CBRE GWE (IT)
Lloyd's Commercial Banking
Premier Inn
Blueglass Marketing
Old Bailey (Criminal Law with Courtenay Griffiths)
Transport for London (TFL)
Metro Design Consultants (Architects)
BP Oil and Gas
Participating students were from amongst the following schools: Bonus Pastor
Addey and Stanhope
Christ the King (Sidcup, St Mary's and Lewisham sites)
Conisborough College
Deptford Green
St Paul's Academy
St Joseph's College
Ready for Work workshop
Before participating in the work experience many of the students attended a 'Ready for Work Workshop' in July where they were prepared for the world of work. The workshop was delivered by Urban Synergy Trustee Paul Lawrence, discussions including dress code, workplace etiquette, social media use, networking and timekeeping.
The workshop also talked to the importance of a good CV, which, even for work placements are becoming evermore vital. The programme would not be possible without the helping hand and commitment of the growing list of organisations and their staff who also believe in the importance of work experience for students who regardless of ability are willing to work hard and embrace the opportunities the placements afford them.
Work experience continues to be of great importance to young people in terms of competitiveness in the future marketplace and Urban Synergy are keen to grow the programme into 2018 with many organisations agreeing to support the initiative again.
Work experience develops key employability skills such as problem-solving, teamwork, communication and time management that recruiters look forLeila Thomas, Urban Synergy Founder
Student Legal Presentations at Reuters
The one week placements at Thomson Reuters culminated in a presentation by the students to company staff, their teachers and Urban Synergy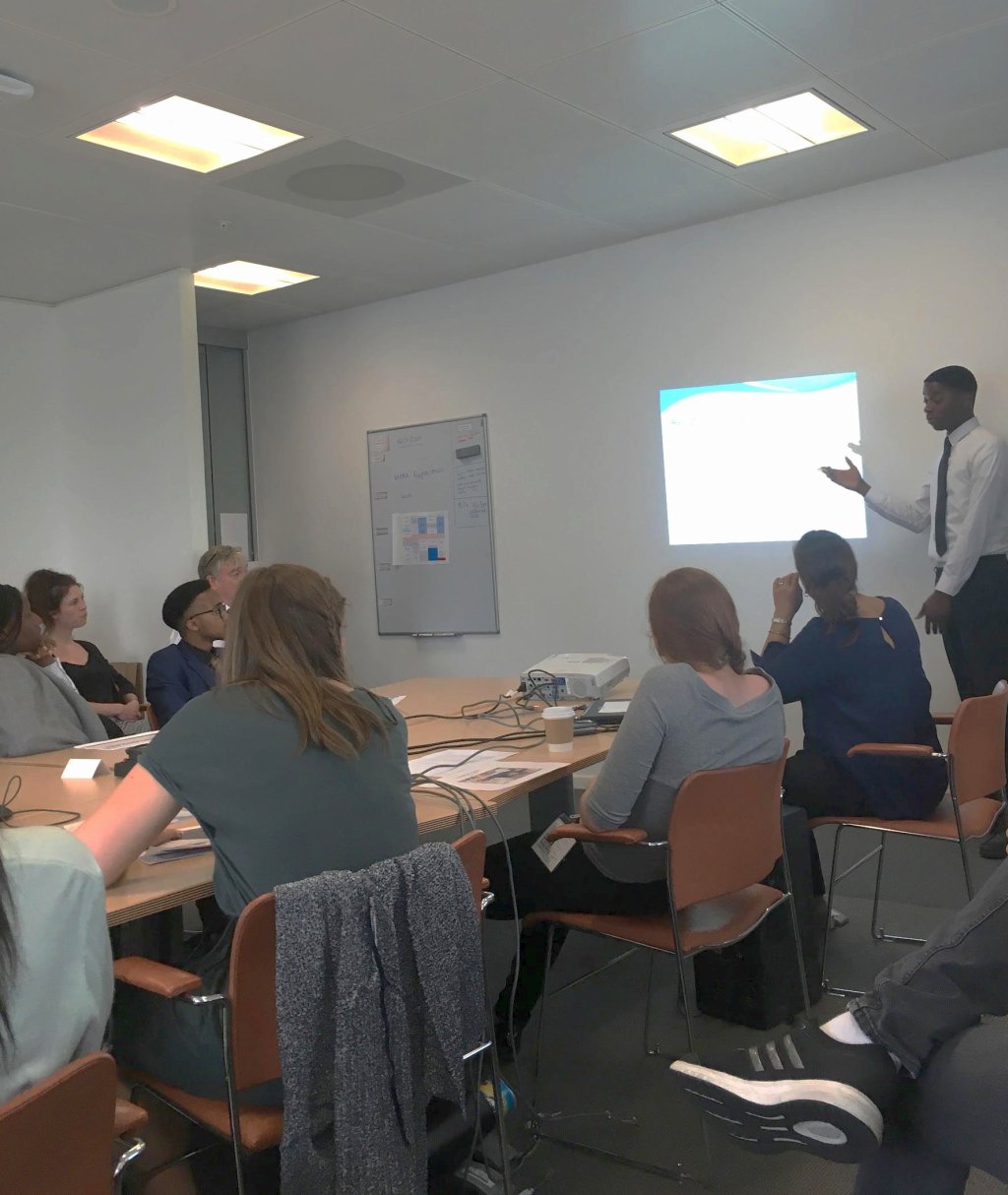 Student presenting at BP Oil and Gas, Canary Wharf
The BP placements saw students rotate in departments including finance and attending field visits.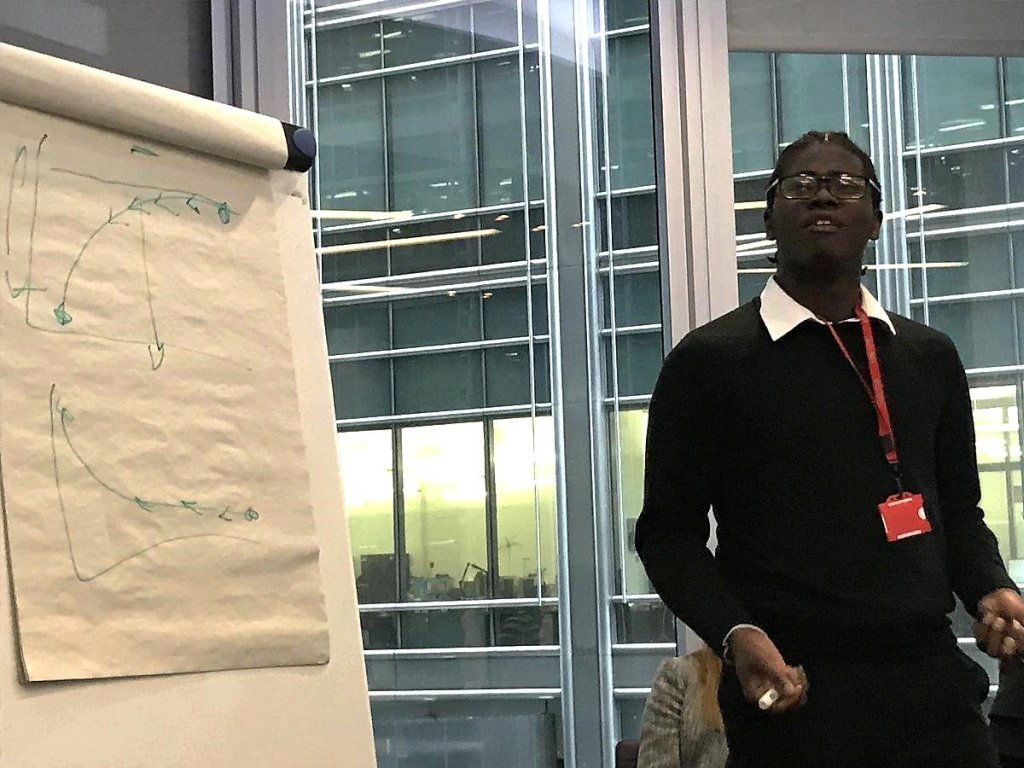 IT Work Experience at CBRE GWS
Peter Granger from CBRE with two students after their presentation on what they had learnt during their one week placement at the contractors data centre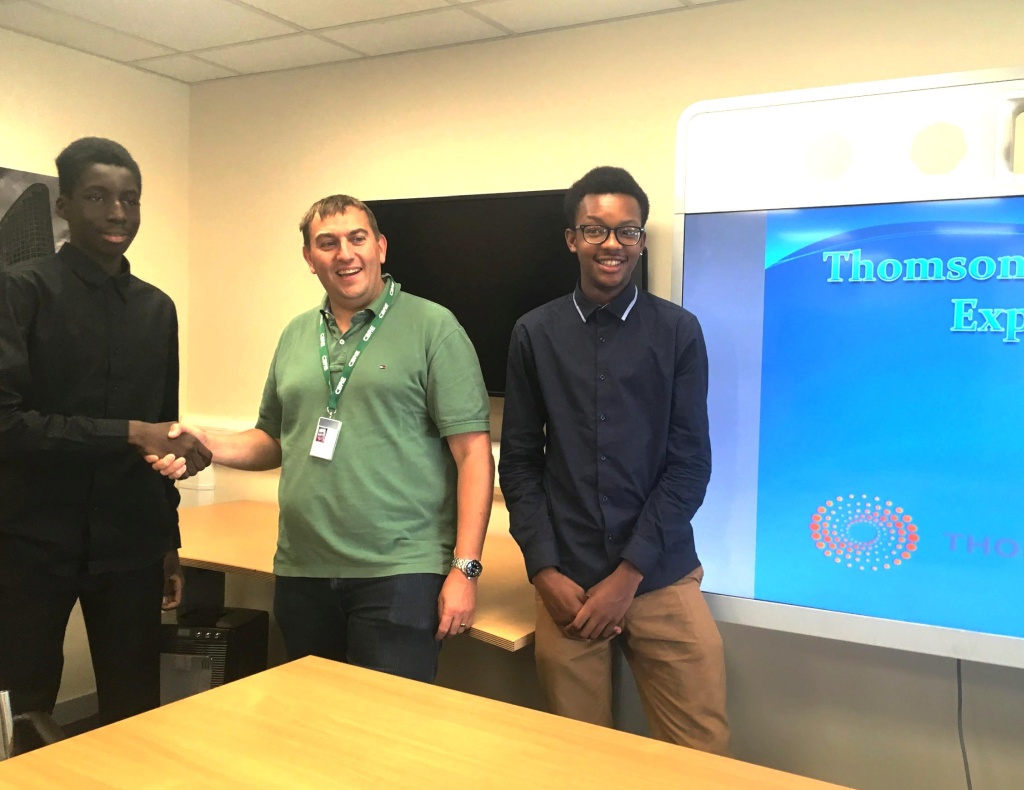 Student work experience presentations in Product Management at Thomson Reuters
The departmental support teams gather for a group photo after the student presentations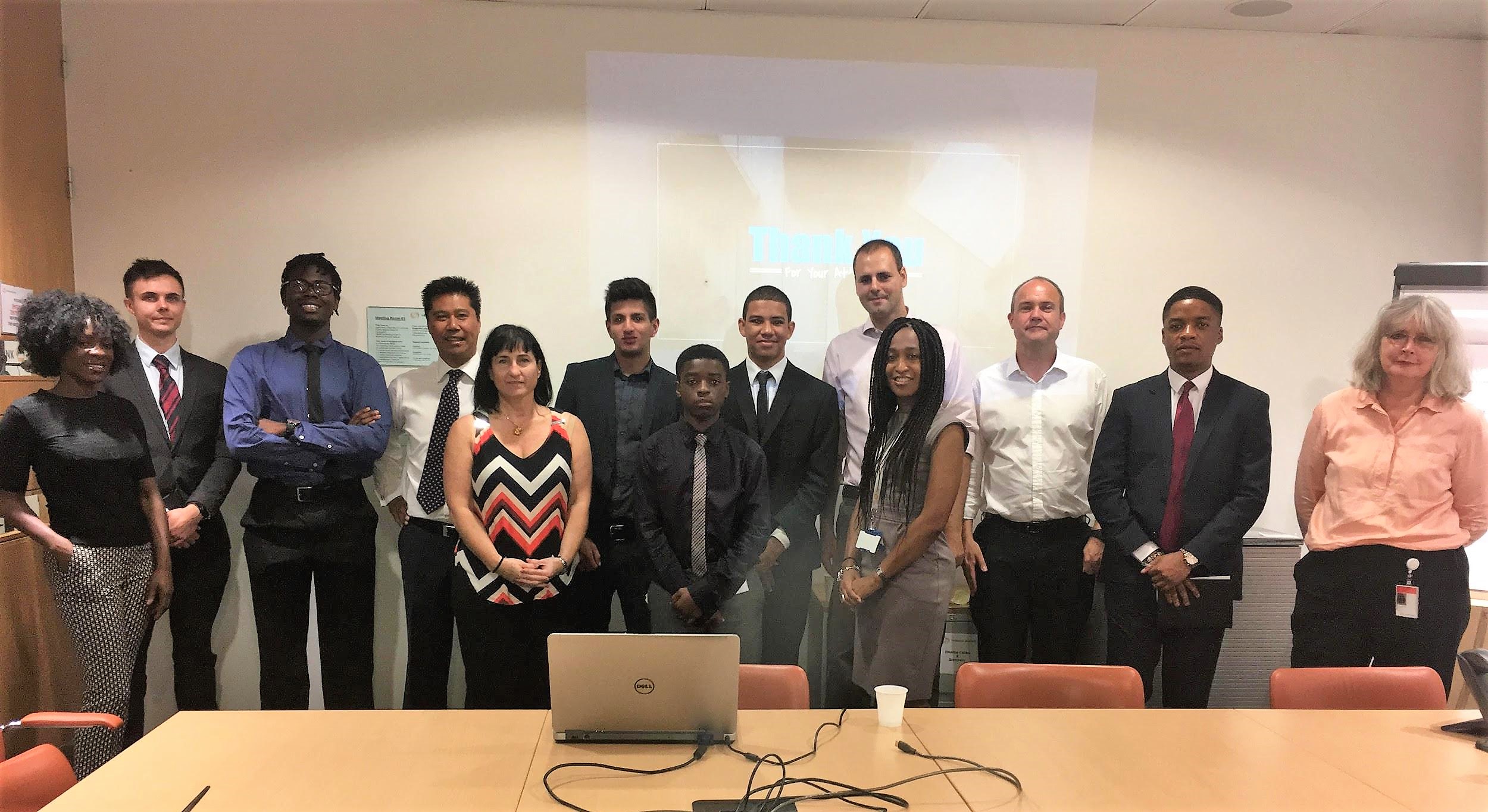 IT Executive Support at Thomson Reuters
Student presentation following placement
Metro Design Consultants
Budding architect Danielle, completes her placement at the high end architect company with a team photo and their secret santas!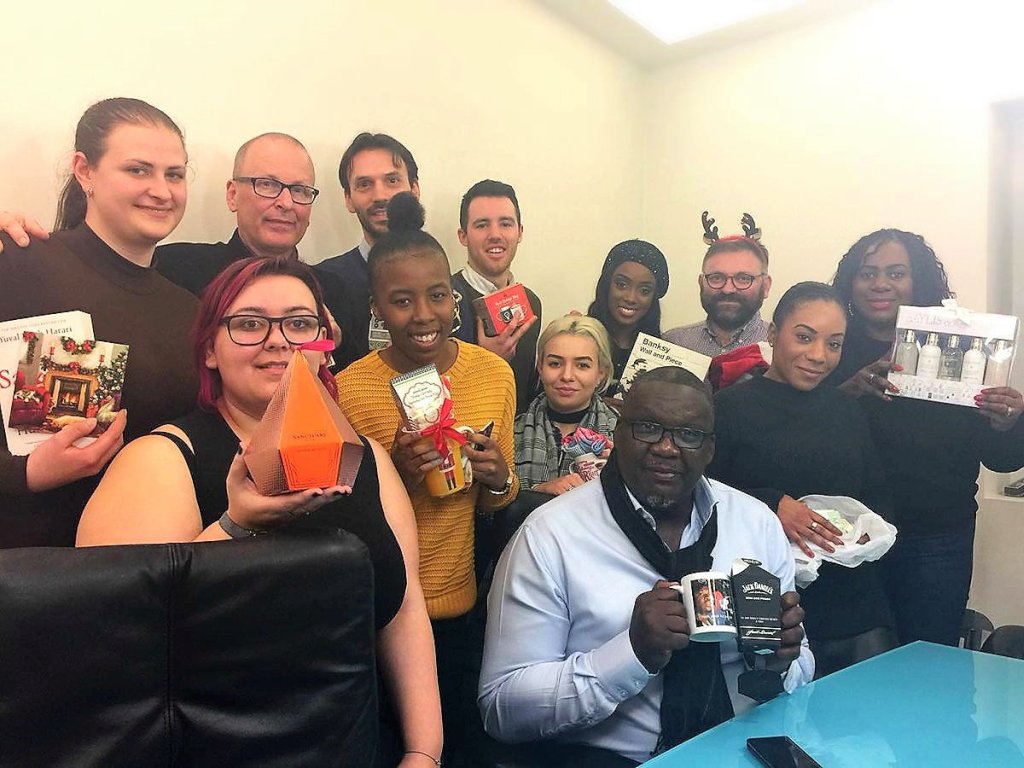 Employer Feedback
Please state Mentee strengths whilst on work experience with you?
'Ability to stand up and present to an audience, to be able to answers questions by an audience despite not knowing the full answer but willing to give it a go and not feel intimidated', Satnam Kaur, Thomson Reuters
'So funny, cheerful, listened well to directions and asked questions when didn't understand a task, did great work'. Chelsea Blacker, Blueglass Marketing
'Resilient, self-confident, enthusiastic, creativity, humor', Cristian Oprea, Metro Design Consultants
'Their enthusiasm and willingness to help is by far the biggest strength we see from all the Mentee's', Peter Granger, CBRE, GWE
'Ruth got on very well. She was enthusiastic, switched on and eager', Jide Oriogun, Transport for London
If anything, what do you like most about the Urban Synergy work experience program?
'Giving young people a chance to experience with real workplace',

Cristian Oprea, Metro Design Consultants

'The strengths of the team who work so hard as volunteers to give these students the benefits of such work experience.The opportunities and dedication that is put in organizing the scheme and the great satisfaction that a student has benefited from the same',

Satnam Kaur, Thomson Reuters

'I think that you provide young people with a great insight into how big companies work. It is a great opportunity to learn',

Tony Bonner, Executive Support, Thomson Reuters

'Everyone is so friendly',

Chelsea Blacker, Blueglass Marketing
'Giving the Mentee's their first experience of a large organisation and having them understand what a real job entails is the most rewarding aspect for me', Peter Granger, CBRE, GWE
Would you be willing to have another young person on work experience with you next year?
'Yes absolutely, my team really enjoys having them with us and we all find it very rewarding, Peter Granger', CBRE, GWE
Feedback from some of the young people when asked how this work experience has helped them:
I enjoyed my work experience very much due to the fact that it was very interesting to see a range of multicultural individuals work together to perform their best and it really gave me an insight of a working environment. Epaphras, 14 years
Yes because I have learnt a considerable amount of information, facts and procedures used in the criminal justice system, Youri, 17 years
Yes, the people I worked with were very kind and helped me to learn a lot of new and practical skills, Yvanah, 17 years

I learnt the following skills, working in a team, compromising, negotiating, trading, presenting and job interview skills, Sauban 18 years

I enjoyed my time at Barclays, I was given an insight into the retail banking area of finance which is good experience to have had, I also had the pleasure of meeting new, lovely people! Adam 17 years

I learnt good communication skills, Jade 15 years

I learnt teamwork, Independence, creativity, smart ideas, Amari 15 years

I got to understand more about how a law environment would be like, Rae 16 years

The placement exceeded my expectation and widened my view on BP, Abbi 17 years