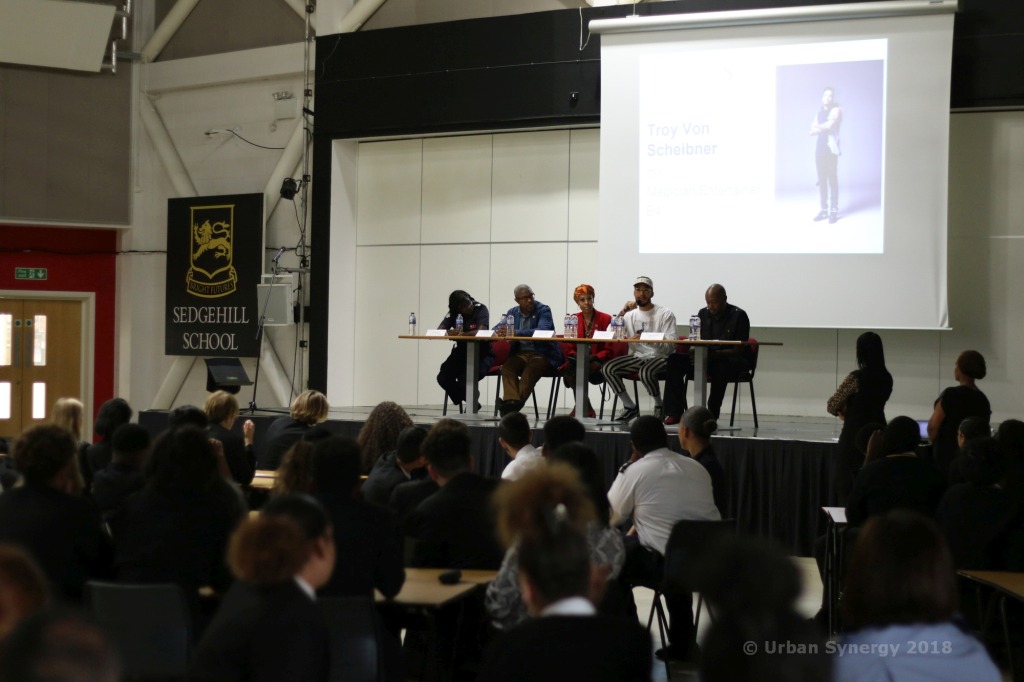 Urban Synergy held their first autumn seminar at Sedgehill School on Thursday 13th September, over 125 students were in attendance to listen to the panelists and also to take part in our speed mentoring session with the rest of the Urban Synergy role models from professions in different industries.
The panel consisted of;
Karen Bell: Watch Manager - London Fire Brigade
Donald Palmer: Associate Professor of Immunology - Royal Veterinary College, University of London
Dawn Goring: Executive Assistant and Office Manager - Prime Minister's Press Office 10 Downing Street
Troy Von Scheibner: TV Magician/Entertainer E4
Crispin Phillip: BBC 1Xtra Producer - BBC
Karen Bell talked about being a female in a predominantly male organisation like the Fire Brigade and the challenges and also about the fact that the fire brigade take part in many community events and are not just saving people from fires or other potentially dangerous situations. Karen talked to the students about 'preparation' and 'perseverance' and told the audience 'don't allow others to determine your future.'
Dr. Donald Palmer talked about his childhood and mentioned how his parents encouraged his interest in science by buying him a science kit at an early age. Donald also said that his role model was Peter Parker, alias Spiderman, from the Marvel comics because he shared his interest in science and he also wore glasses. Donald said 'have a passion for science and make sure that you know where you are going. If not science 'find your passion, find your interest and don't let your passion be dictated by others. Enjoy yourself, enjoy your life.'
Dawn Goring talked about her journey to her current job in 10 Downing Street and the various roles that she worked in along the way. Dawn talked to the audience about important qualities needed in her role and necessary in most roles 'be nice to people along the way. There is no harm in asking a question, never be afraid to ask a question. Also don't dwell on a mistake, focus on the way to get past it.' A couple of Dawn's top tips were 'Be amongst like minded friends and enjoy whatever you do.'
Troy Von Scheibner talked about his career as a magician and also mentioned that he went to college to study for his A' levels then went on to complete a degree in Creative Advertising as a back up plan in case his magic career wasn't successful. Troy said in the magic industry 'you need a thick skin.' He also said 'whatever friends you have they are a reflection of you, hang around with like minded people, don't hang around with idiots. Also don't look at Instagram (or other social media) all the time.'
Crispin Phillip talked to the audience about his job as a producer and the students looked at pictures of some of the celebrities that he has met including Stormzy, Ed Sheeran, Jackie Chan, Janet Jackson, Childish Gambino/Donald Glover. Crispin said that 'there is no straight path' and mentioned the jobs he did along the way including volunteering. Crispin also said 'have a genuine interest - understand what you want. Have a genuine passion, you need to have a love of what you want to do and base your application on what you are interested in.'
The headteacher, Miss Cassidy, said 'the atmosphere was superb' and one of the students said 'we really appreciate you guys, all of you, for coming here.'
Thank you to Sedgehill for having Urban Synergy at your school.
Student feedback
Sofia aged 15yrs: 'I learned that you can do anything you want, if you put your mind to it.'
Isaac aged 15yrs: 'If you don't succeed - you should always persevere. I enjoyed speaking to people who actually like their jobs.'
Alyssa aged 15yrs: 'You always need to stay focused, don't be around people that aren't like-minded. Adapt to your surroundings, pick up things you never knew. Stay focused and always be ready.'
Oliver aged 15yrs: 'You can be whatever you want no matter what gender, race or disability - you can follow your passion.'
Kayonye aged 15yrs: 'I will succeed, I will make sure of it. I enjoyed the different life experiences that the role models had.'
Daniel aged 15yrs: 'I will not let anyone or situations beat me. I enjoyed speaking to a different range of people from different backgrounds.'
Aimee aged 15yrs: 'I learned to be prepared and have somewhat of a plan, also to not let anyone decide my future for me.'
Angel aged 15yrs: 'I know that I have to commit and make plans for my future. I can't go into it blind.'
Freda aged 15yrs: 'I learned that it takes time to get to where you want to be and what you want might change over time. I will prepare and try to revise more - hard work pays.'