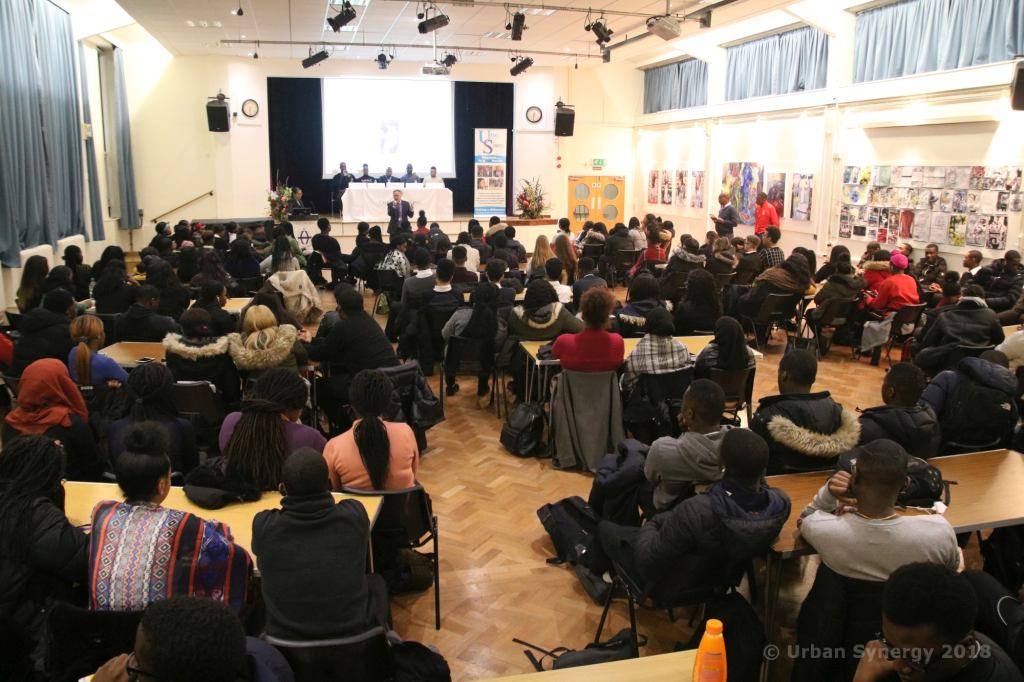 Urban Synergy delivered their annual Role Model Seminar at Christ the King Sixth Form College on Tuesday 20th November. The evening was well attended with 145 students from different campuses.
Urban Synergy's Role Models featured: BA pilot, Flight Instructor, Solicitor, Orthopaedic Surgeon, Infectious Diseases & Microbiology Registrar, Police Sergeant, Fire Station Manager, Manufacturing Engineer, Psychologist, World War 2 Veteran, Business Development Manager, Executive Director, Data Scientist/Statistician, Train Driver (and many more.)
The panel on the evening were;
David Olusegun: Chief Executive Officer - Black Diamond Records
Natalie Scott: Menswear Fashion Stylist - Mr Porter
Oliver Adebayo: Trainee Orthopaedic Surgeon - National Health Service
Andrew Cole: Former Premier League & England Footballer
Troy Von Scheibner: TV Magician/Entertainer, E4
David Olusegun & CTK Alumni talked about starting out as a footballer. When he was released from the football academy he had to think about his future and went to college, then university to complete a degree and master's degree. David gained experience working in a management agency taking care of singers, athletes and footballers. At Black Diamond records David's focus is on 'A&R' Artist and Repertoire where David and his team look for and develop new artists. David said 'you are always going to get a no - be patient. Don't be scared about not knowing about what you want to do. Be focused, do one thing really well. See the long term view.'
Natalie Scott & CTK Alumni showed the audience some fashions on the catwalk and talked about a typical day in her job as a Fashion Stylist and her interest in the business side of fashion. Natalie told the audience 'start up your own blog, if you can't find the job you want to do - make one. You have to enjoy what you're doing, if it's not making you happy don't do it. You need to be focused on what you want to do, know what you like and know what you enjoy. Surround yourself with people who want to see you win.'
Oliver Adebayo spoke about his journey to becoming a doctor and the length of time it took for him to study as a doctor. The students were shocked to hear that it took seven years. He said he enjoyed being a surgeon and told the students 'don't let anyone say no to you. If you believe you can do it, you can do it. You have to work hard, if you enjoy what you do the time will fly by.'
Andrew Cole, is one of the prolific goalscorers in the Premier League and won all possible honours in the English game. Andrew showed the students some pictures of when he was part of the Manchester United team and when they won the Premier League, he spoke about leaving home early to avoid being involved with the wrong crowd he said 'my friends wouldn't let me follow them.' Andrew talked about having to do some menial tasks as part of his football training when he first started out but said that it was 'about building your character, you were out of your comfort zone.' With regard to building a career he said 'if you're not dedicated to your craft, you're not getting to where you want to get to.' Andrew also spoke to the audience about the importance of having positive friends 'when you have good people around you, things will become easier. You also have to respond to adversity in the right way, to move forward.'
Troy Von Scheibner & CTK Alumni talked to the students about his interest in magic from a young age and practising magic tricks at college and university to landing his own show with Channel 4. Troy also said that he went to college then university to complete a degree in Creative Advertising as a backup plan he said 'going to school and getting an education is one of the important things. Education is important for getting your ideas across to people that believe in you.' Troy told the audience 'if you have a passion, go with it. You have to go with what your heart tells you to do, anything is possible.
World War 2 Veteran, Neil Flanigan, addressed the audience at the end of the Role Model Seminar and said 'given time, given opportunity, you will kick down the doors and get up the ladder.'
Student Feedback
Shunai aged 16 yrs: 'I learned that you should follow your dreams, the role models made me want to go to university and they were relatable. I will focus in school and work to the best of my ability. I enjoyed speaking with the role models as they are inspiring.'
Esther aged 16 yrs: 'I learned that knowledge is power, time doesn't wait for no one. What you do today will have an impact on what you do tomorrow. I will study hard and focus on my goals for the future.'
Abigail aged 16 yrs: 'I learned that there are many more jobs that I can do that I never knew about before and that it is not too late to pursue my dream job. I will explore different job options and make sure that I get the best grades that I can that will allow me to choose what I want for my future.'
Princess aged 16 yrs: 'The doctor inspired me as he was able to endure seven years in university without going off track. I will study harder, longer and smarter. I will also organise my life to arrange time to be used for studies and time for extracurriculars.'
Deborah aged 16 yrs: 'I will stay focused in all my subjects and set goals/milestones, even if I'm certain about a career I should always have a back-up plan just in case things go wrong.'
Aliyah aged 17 yrs: 'Even if you fail, you have to pick yourself up again. I will make sure that my work is my priority.'