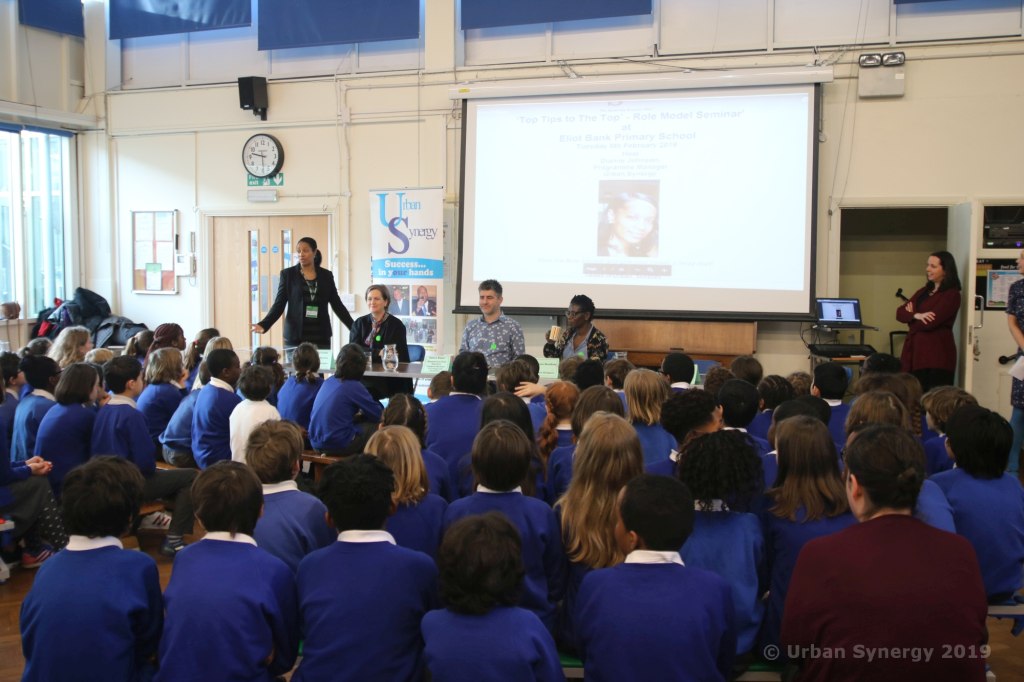 Urban Synergy delivered their first Role Model Seminar of the year at Eliot Bank Primary School in Sydenham on Wednesday 6th February.
104 students aged from 9 - 11 yrs old gathered in the hall to listen to the career journeys of the four role models/panelists and then take part in the speed mentoring session with other role models which included: Consultants, Stock Trader, Paralegal, Property Developer, Footballer/Coach, Account Executive, IT Manager and an Executive Director from an investment bank.
Kate Walsh, Deputy Head at Eliot Bank, introduced Urban Synergy and Dianne Johnson, Head of Programmes, was the facilitator for the morning.
The panellists were:
Chantal Coady O.B.E.: Creative Director - Rococo Chocolates
Dolores Barrett: Senior District Crown Prosecutor - Crown Prosecution Service
Simon Raper: Statistician/Data Scientist - Coppelia Machine Learning & Analytics
Flo Headlam: Garden Designer & TV presenter
Chantal, an alumni of Eliot Bank school, talked about growing up and living in the Middle-East and Africa as a result of her father's job and then returning to London to go to primary school and convent school. She then talked about opening her first Rococo shop in the King's Road and also working with a company in the caribbean - Grenada to grow and supply her cocoa beans and receiving her OBE from the Queen.
Chantal said 'kindfulness, be kind to yourself first of all. Mindfulness, make time and space to find inner peace. She also said that starting your own business isn't easy and 'resilience is about bouncing back when things go horribly wrong.' Chantal said she was inspired by Roald Dahl's story Charlie & the chocolate factory and encouraged the children to come with their parents to one of her shops to sample the chocolate.
Dolores spoke about being one of 9 children and being the first to go to university in her family. Dolores said that she had wanted to become a lawyer since she was 8 years old and was determined to become one despite the negative advice that she received from the school careers advisor. Dolores said it was important to have a goal - if you don't know where you are going, any road will get you there. Motivation is really important, have a dream. Dolores also said 'the best job in the world is doing something that you love and what you are good at. Motivation is what gets you started, commitment is what makes you see it through. Persistence - don't fear failure, see it as an opportunity.'
Simon talked about starting well at school then gradually became more and more disruptive. After leaving school with less options and working in different jobs he found that he enjoyed working with computers and numbers and a university took a chance on him when he applied for a course. Simon talked about machine technology i.e: Alexa and Siri and creating his own company and enjoying the flexibility of running his own machine learning and analytics company, working with various clients and also enjoys building robotics in his spare time. Simon said 'it's never too late' to turn things around in your life for the better. 'Be useful - people love it when you take a problem off their hands.' Simon also advised that 'you can go a long way in business by being kind.'
Flo spoke about her career journey which included dance and also working for the Comic Relief charity. Flo decided 6 years ago to change her career to one in horticulture, something that had always been of interest. A chance meeting with a fellow gardener in a garden nursery, led to an opportunity to become one of the presenters on Gardener's World at the BBC. Flo said 'creativity is a really important thing. Be yourself, whatever it is, as you go through life. Confidence in yourself plays a big part when opportunity knocks and how you follow through. Work out what's your vibe and find your tribe.'
One of the teachers commented that the children's 'engagement levels were sky high.' Two of the children thanked Urban Synergy's role models by saying 'thank you for inspiring us in what we might want to do.'
Quote from Mary Quinn - Assistant Head, English Subject Leader & Year 6 Teacher at Eliot Bank:
"Our Y6 children thoroughly enjoyed the opportunity they were given to participate in an Urban Synergy role model seminar. Our pupils were so engaged by the speakers in the panel and loved the opportunity to speak to more role models in the speed mentoring sessions. Hearing the career journeys of the role models who joined the session, from all walks of life, was truly an inspiring and motivating experience for all our children. For some, it has given them ideas of possible careers in the future that they may not have heard of previously; others were motivated by the tips they received from the mentors about how to go about achieving your goals. A range of helpful, practical and positive advice was given: be resilient - don't give up when you come up against an obstacle; do what makes you happy - follow your passions and interests; be kind to others; make yourself useful to others; and, of course, work hard and make the best of the opportunities you are given. I am certain that the words of wisdom the students heard today will stay with them for a long time. Thank you, Urban Synergy."
Feedback from students
Nora - 'I learned that I should never give up on what I want to do. It inspired me to make my own chocolate shop.'
Sarah - 'The garden lady inspired me to be something like that. I learned that you always need to follow your dreams and never give up. I enjoyed the quick mentoring because you got to know the mentors better.'
Leroy - 'Even though things are hard in life you have to persevere through them. Simon inspired me because he is into technology and I am as well. I will persevere through things and not give up. I enjoyed the speed mentoring because I got to speak to Simon.'
Kimarni - 'I need to focus in school so I can do well later in life. The chocolate lady, Chantal Coady, inspired me because she said inspirational words like kindness, mindfulness and resilience. I will focus more and listen more to what the teacher is teaching us. I enjoyed talking to the role models about their jobs and how they were successful in life.'
Eve - 'I need to keep being goal-oriented and to stick to what I believe in despite what people say to me. Dolores inspired me because I would like to be a human rights lawyer when I am older and she still did what she wanted even though people told her she wasn't good enough to do it. I will try my hardest to achieve my goal and make sure not to let anybody push me down - I will also make sure to try my hardest in whatever I want to do. I enjoyed the panel of mentors because they all gave really good advice and I found it most helpful.'
Rose - 'I learned that you can never give up no matter what anyone says. Flo inspired me because even though she didn't know that much about TV she persevered and went for it. I enjoyed the big photo at the end where all of the role models stood behind us looking proud - and so did we.'