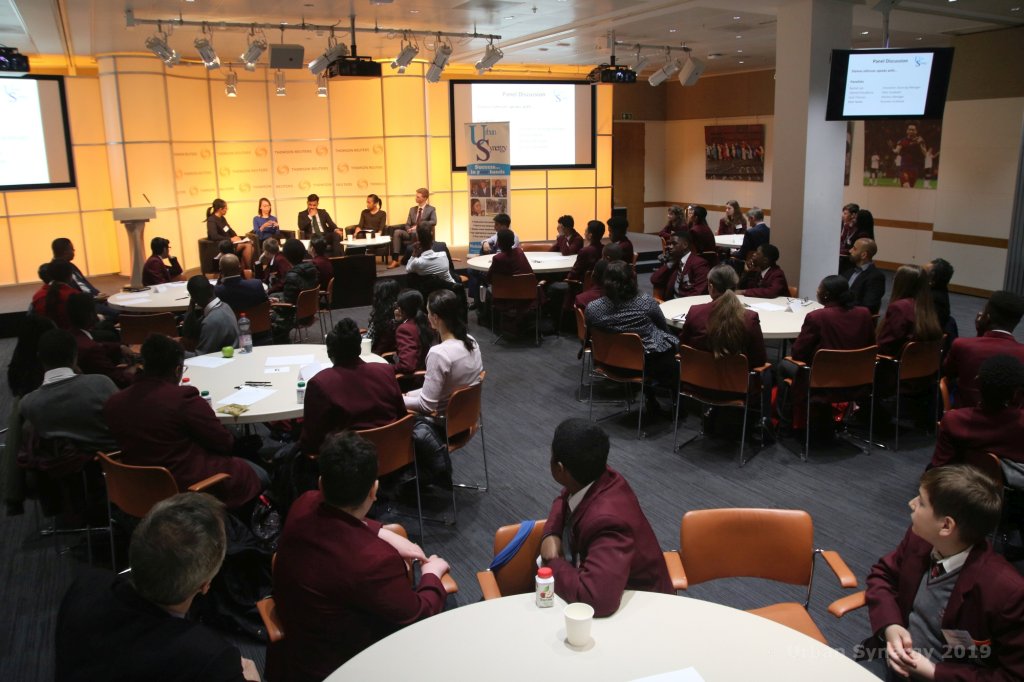 How do you teach seventy 13&14 year olds that failure is ok.. if you learn from it?
Well that is exactly what one of the students learned, who joined us at our Urban Synergy Corporate Role Model Seminar on Tuesday 5th March. She told us "Failure is sometimes a good thing - if you fall, get back up, learn and move on"
Hosted by Refinitiv in the Thomson Reuters building in Canary Wharf we welcomed 72 year 9 pupils, from Conisborough College in South East London.
Bringing the students into a corporate working environment and enabling them to meet inspirational Engineers, Designers, Lawyers, Creative Managers and Directors for the first time, meant they described the the entire experience as "Amazing!"

We often take for granted the diversity of the worlds we move in and the places we visit, but an event like this can really inspire the next generation to work harder and move into the corporate world.
The role models helped our students to discover what career path they wish to follow in the future, by building their confidence and treating them as equals. The influence that role models have over young people is tremendous, and by seeing a diverse mix of role models they inspire the next generation, building a diverse talent pool, ready for work.

Alex Cesar, Global Head - Enterprise Data Platform Technology at Refinitiv, opened the event with a welcome, describing her role in a way the young people could understand and talking about her career journey. One pupil said "Alex Cesar inspired me as she was an Electrical Engineer and I want to be a Mechanical Engineer. I will revise and apply myself now".
This was followed by a panel discussion where Rachel Lee, Innovation Sourcing Manager, Tahmid Choudhury, Sales Graduate, Leila Thomas, Network Rationalisation Manager and Matt Noble, Business Graduate, shared their journeys and their top tips.
Each of them spoke about the importance of being organised, even if you are not sure what you want to do yet. Be organised and develop transferable skills so you are ready in the future. Matt shared "Be confident and adventurous, take risks and take yourself out of your comfort zone by trying extra curricular stuff, as you may find your next passion"
This was definitely recognised in the feedback from the young people with one saying, 'I learned to push myself out of my comfort zone and socialise with other people. I will socialise more in school and try new things.'
We then held the speed mentoring with the role models sitting with the young people and rotating every 7 minutes. The role models asked what the students were interested in as well as sharing insight about their roles and career paths. This quick pace of change ensured the students met more than 10 different role models.
One pupil said "There's lots of different careers I didn't know about that interested me. I will study and make time for that and not miss deadlines. I enjoyed the mentoring session as I got to ask questions."
The event was a resounding success, with the Conisborough College year head saying "It has been a really inspiring day and an opportunity for our young people."