If you would like to be kept up to date with new posts on the Urban Synergy News and Events page, enter your e-mail address in the Subscribe to updates box on the front page and you will receive notification of all new posts.
Alternatively, click on the

button in the sidebar or your browser address bar to subscribe using RSS. This lets your browser or a web based reader such as Google Reader keep track of new posts automatically.
Email and RSS feeds are provided by Google's Feedburner. A new window will open giving you the option to add the feed to your home page in Yahoo or Google, or you can provide an email address by clicking on the "Get Urban Synergy News and Events delivered by email" (highlighted in the screenshot)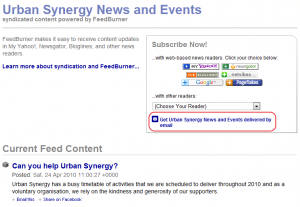 A new window will then open for you to enter your email and random text (highlighted) which helps prevent spam. Enter your email address in the box provided, the text displayed and then "Complete Subscription Request".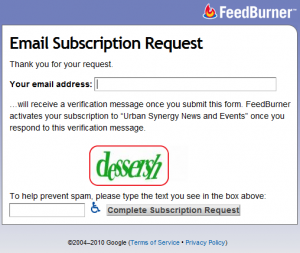 You will then receive an email from FeedBurner asking you to activate your subscription: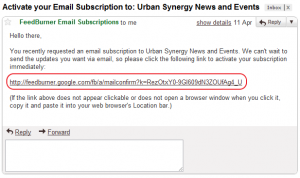 You must click on the link in the email (highlighted) in order to complete the subscription. If this email does not appear in your Inbox, please check your Spam folder. This process prevents your email address from being illegally subscribed to email lists.
Here is a sample Urban Synergy Newsletter from News & Events.