2020/2021 Programme Suspended
Unfortunately we are unable to deliver a 1-2-1 programme in 2020 due to a lack of funding. We are currently developing an short e-Mentoring programme so that we can continue to support young people through the Covid-19 pandemic.
1-2-1 Mentoring Programme
Urban Synergy's mentoring programme focuses on 12-16 year olds from Lewisham Borough who are paired with trained volunteer mentors for a period of 1 year. Our mentees are referred from schools, Youth Inclusion Support Panels and community organisations. 
Urban Synergy's mentoring programme meets the Approved Provider Standard of the Mentoring + Befriending Foundation.
The main objectives of our 1-2-1 mentoring programme:
Improve behaviour at school and home
Lower school exclusion rate and better attitudes to school
Promote healthy relationships and lifestyle choices
Raise academic and career aspirations
Enhance self-esteem and self-confidence
Improved interpersonal skills
Prepare young people for the world of work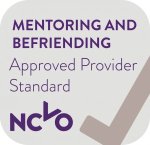 Summary


All mentors undergo an enhanced DBS background check


Mentors are gender matched with mentees


Full training is provided, with backup of an experienced team


Programme lasts 1 year, minimum of 1 hour a fortnight


Our Mentors
Urban Synergy mentors are from all walks of life, professions and industries and desire to contribute positively to a young person's development by being a role model. They will help their mentee to achieve goals but it's not all work – our mentors also engage their mentees in fun, safe activities.
Running for a period of one year, mentors meet their mentees typically once a fortnight and follow a structured goal-oriented programme. Our mentors focus on providing mentees with a head start by sharing positive life experiences, contacts, knowledge and support and encourage mentees to use the tools and opportunities effectively.
All prospective mentors complete enhanced DBS (Disclosure and Barring Service) checks and mentor training before they are matched with their mentee. Mentors/mentees are matched by gender and location but personalities and interests are also considered to ensure a good match. A mentee's progress is tracked and evaluated throughout the programme so that the young person has a report of what they have achieved and a roadmap of near goals to pursue after they 'graduate' from the programme.
If you would like to be a mentor, please follow this link for more information and our application form.
Parents
The success of 1-2-1 mentoring relies on the support of parents working with the mentor, mentee and Urban Synergy coordinators. Throughout the programme your child will be having regular sessions with their mentor, and will be invited to attend a number of workshops and activities that are an important part of the programme.
In addition, we will ask parents to keep in touch Urban Synergy coordinators and provide progress feedback quarterly.
Youth Development Activities
Throughout the mentoring programme, mentees participate in a number of educational and fun Life Skills enrichment events that are designed to challenge and broaden horizons.
Typically these will include workshops for:
Goal Setting
CV Writing
Ready for work
Managing Difficult Situations
"Real Talk" meeting positive role models and young ambassadors
Additional activities include:
Visits to corporates
Parliament Tour
10 Downing Street visit
Intergenerational volunteering
How to Apply
Urban Synergy operates in the London Borough of Lewisham, and will prioritise applications from our home borough. All applications must have approval from the mentee's school so that regular progress updates can be received as this is essential to measure outcomes.
Please complete the form below and we'll be in touch with a full referral form.
Please state the the age, school and area where the young person resides in the Message so that we can process your inquiry swiftly.